What's Out There Weekend Berkshires
September 21-22, 2013

Explore and discover What's Out There Weekend Berkshires, featuring a series of
FREE

expert-led tours highlighting the regions' remarkable landscape legacy. During the weekend, visit more than thirty cultural landscapes throughout Berkshire County and a special schedule of tee times at some of the area's most significant historic golf courses.

The full-color, 56-page booklet is now available for purchase online.


View What's Out There Weekend - Berkshires, MA in a larger map

The Berkshires are 45 miles from Albany, NY, 140 miles from NYC and 120 miles from Boston – learn more about how to get there at the Berkshire Visitor's Bureau
Tours for Sunday, September 22
Berkshires: Farm to Gilded Age Table
Ranging from working farms to Gilded Age "cottages" to rich cultural offerings in dance, theater, music, and art, the Berkshires of Western Massachusetts offers a wealth of cultural landscapes to explore. What's Out There Weekend Berkshires reveals important sites along the African American Heritage Trail, historic farmsteads and town commons, Jacob's Pillow and Tanglewood performance spaces, and iconic landscape design at Naumkeag and Edith Wharton's The Mount. The weekend also highlights the Berkshires' important golf history, with specially arranged tee times at significant courses designed by Wayne Stiles, Donald Ross, A.W. Tillinghast and others. Many are popular destinations, but do we know their background stories?
What's Out There Weekend dovetails with the Web-based What's Out There, the nation's most comprehensive searchable database of historic designed landscapes. The database offers a broad and interconnected way to discover the breadth of America's historic designed landscapes, while What's Out There Weekend gives people the opportunity to experience the landscapes they might see every day in a new way.
What's Out There Weekend is coming to the Berkshires through a collaborative partnership with Berkshire Synergy Project (BSP).
Exclusive Offers


Hotel and Golf Packages
for Sept 21-22 Weekend
Launch Reception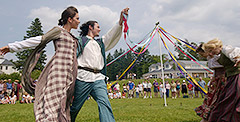 Friday, September 20
6 to 7:30 pm at Shakespeare & Company
Elayne P. Bernstein Theatre lobby
70 Kemble St, Lenox, MA 01240
Behind the scenes tour of the theater at 5pm
RSVP encouraged, space is limited