What's Out There Weekend: San Francisco

September 17-18, 2011
Join TCLF in San Francisco for What's Out There Weekend, featuring a series of
FREE

expert guided tours highlighting the city's remarkable array of Modern landscapes. During the weekend, members of the public can visit 25 sites around San Francisco and the Bay Area.

Registration is suggested for all tours. Follow the site links below
to learn more about the property, its designers, and its history.
Saturday, September 17
Golden Gate Park
1 | Music Concourse (10-10:45am)
2 | Japanese Tea Garden (11-11:45am)

Fort Mason/Ghirardelli/Fay Park
3 | Fort Mason Center -SEAT Exhibition (10:30-Noon)
4 | Ghirardelli Square (1-1:45pm)
5 | Fay Park (2-3pm)
6 | Sutro District (2-4pm)
- Lands End
- Sutro Heights Park
- Sutro Baths
7 | Palo Alto+Santa Clara - Royston Parks (1-5pm)
- Bowden Park
- Mitchell Park
- Santa Clara Central Park
Sunday, September 18
Berkeley
8 | Greenwood Common (10-11am)
9 | UC Berkeley Campus (11:30am-1pm)

Oakland
10 | Kaiser Center Roof Garden (2-3pm)
11 | Oakland Museum of California (3-4pm)

12 | Golden Gateway and Levi's Plaza (10am-Noon)
- Levi's Plaza
- Sydney G. Walton Square
- Golden Gateway Center
- One Maritime Plaza
- Embarcadero/Justin Herman Plaza
13 | San Francisco Civic Center (1-2pm)
- Civic Center Plaza
- UN Plaza
- Market Street Corridor
Stern Grove and St Francis Wood
14 | Sigmund Stern Grove (2-3:30 pm)
15 | St Francis Wood (4-5:30pm)
Mostly Modern
San Francisco and the Bay Area, with its rocky, hilly terrain and dramatic Pacific vistas, is home to remarkable and pioneering forms of landscape architecture. From Oakland's Kaiser Center Roof Garden to Levi's Plaza in San Francisco to Santa Clara Central Park, this region has the broadest and most diverse Modernist landscape legacy in the country. The city's landscapes respond to its unique hills and views, in neighborhoods like St. Francis Wood and parks like Stern Grove and the Sutro District. The goal of What's Out There Weekend is to tell the fascinating stories of these valuable places and provide the public with opportunities to discover the individuals who designed and created them.
What's Out There Weekend dovetails with the Web-based What's Out There, the nation's most comprehensive searchable database of historic designed landscapes. The database offers a broad and interconnected way to learn about a region's historic designed landscapes, while What's Out There Weekend gives people the opportunity to experience the landscapes they see every day in a new way.
Don't Miss - September 15
Join us on Thursday for these
preview events: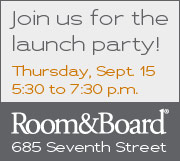 RSVP here...