Harold ap Rhys Caparn
Born at Newark on Trent, Nottinghamshire, England, Caparn's initial exposure to horticulture and landscape design came from both his grandfather and his father, who owned the largest nursery in the English Midlands. In the 1890s Caparn followed his father and brother to the U.S., where they had established a successful garden design business in Short Hills, New Jersey. He initially worked for landscape gardener J. Wilkinson Elliott, then moved to New York City in 1899 and opened his own office in 1902.
In 1912, the Brooklyn Botanical Garden appointed him its consulting landscape architect. Among many projects he completed in 32 years working there, he designed the Gardens' overall plan (following the Olmsted Brothers initial site layout), and also the Plant Family Collection, which presents plants in botanic order of their evolution on earth. He did significant work at the New York Zoological Park in Brooklyn and designed numerous city parks and private estates in the region and further south, in Tennessee and Virginia.
Caparn was an active writer and educator about landscape architecture and an early advocate for the field. He taught landscape architecture at Columbia University, establishing a degree program there along with Ferruccio Vitale and Charles Wellford Leavitt, Jr. He was elected a Fellow of the American Society of Landscape Architects in 1905.

Harold ap Rhys Caparn was born on December 18, 1864, to Thomas John and Ann Elizabeth Caparn at Newark on Trent, Nottinghamshire, England.
After schooling in England and at the École des Beaux-Arts in Paris, Caparn immigrated to America, arriving on September 23, 1889. From 1890 to 1897 he worked for nurseryman and landscape gardener James Wilkinson Elliot in Pittsburgh. In late 1897 Caparn opened his own landscape architecture office in Yonkers. The following summer he studied parks and gardens in France and Italy. In 1900 the Yonkers Park Commission awarded prizes to Caparn for his designs of Washington Park and Grant Park, his earliest extant work.
In November 1899 Caparn was engaged by the Executive Committee of the New York Zoological Society (Bronx Zoo) to present a study for the entrance concourse and the central Baird Court, and it was approved for implementation. In 1902 he moved his office to 156 Fifth Avenue, Manhattan. From 1900 through 1904, Caparn further developed his plans for the zoo. While the steps and the court were formal in design, the grounds were designed as informal, animal-friendly landscapes. Baird, later Astor Court, is recognized as a New York City Landmark.
Caparn visited Paris in 1905 to study architecture and aesthetics in the Atelier Buray. When he returned to New York he gave a talk, "Parks in Paris," upon his initiation as an early Fellow of the American Society of Landscape Architects (ASLA). At a meeting of the Society in 1907 he proposed a great water park, and later a park honoring Jacob Riis, both in Jamaica Bay, New York. Many others added to the development of these parks that are now managed by the National Park Service.
The Brooklyn Botanic Garden was founded in 1910. The Olmsted Brothers firm of Boston worked on general layout and land preparation. In 1911 Caparn served as a consultant on the design of the Native Flora Garden together with Norman Taylor, curator of plants. On January 1, 1912, the Garden appointed Caparn as its landscape architect. From 1912 through 1919 Caparn worked independently, in cooperation with the Olmsted firm, on the developing design. His earliest and ongoing extensive design was the Systematic Section, now the Plant Family Collection.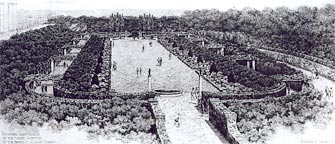 As funds became available at the Garden, he designed The Water Lily Pool and Terrace, the Cranford Rose Garden, and across a path, the Rose Arc with pool. He designed the Magnolia Plaza for which he and his daughter Rhys jointly designed an armillary sphere, still standing in the center of his compass laid on the ground. Further Caparn designs included the Herb Garden in 1938 and the Osborne Garden dedicated in 1939. His work on the Garden for over 32 years was his greatest achievement.
Caparn was elected President of the ASLA for the years 1911 to 1912. Columbia University offered during the summer of 1911 its first course on landscape architecture, taught by Caparn. From summer 1912 through spring 1913, Caparn alternately taught courses with Charles W. Leavitt and Ferruccio Vitale. Caparn's topic was informal design, which he explicated in many articles and landscape designs.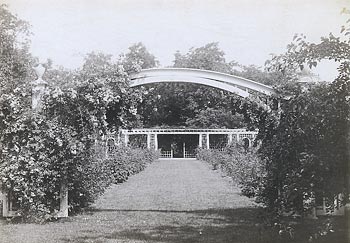 He designed the private estate of Maitland F. Griggs, art donor to Yale and the Metropolitan Museum, and trustee of the Frick Collection. The former Griggs estate is located in Ardsley-on-Hudson. He also designed the estate of William J. Tully, located on Long Island. Caparn used the rose garden for this estate as a test model for his later design of the Cranford Rose Garden at the Brooklyn Botanic Garden.
In 1938 Caparn designed the planting plan for Brooklyn College in the manner of an arboretum with a wide variety of trees and shrubs. His "Woodland Garden" was featured in the Parade of Gardens at the 1939 New York World's Fair and was reviewed in The New York Times with praise in the Fair's 1939 and 1940 seasons.
Caparn published 120 articles from 1893 to 1945 in 35 academic journals and popular magazines. Some had a sweep of history or control of the subject that make them worthy additions to the literature, such as his 1931 article based on original documents and personal knowledge of the founders of the ASLA.
Among his writings were letters in support of Manhattan's City Hall Park, Inwood Hill Park at the northern tip of the island, and Battery Park at the southern tip. With a view toward future city planning, he proposed residential and business development between the Park and the financial district, now Battery Park City.
Regarding Central Park, he wrote 30 letters to The New York Times and several journals between 1898 and 1933 showing the need for better administration and maintenance. Caparn's writing and public support of Central Park helped to guide its future when the designers, Olmsted and Vaux, were no longer able to speak for themselves.
Caparn wrote a pamphlet, "State Parks," published in 1921 by The National Municipal Review. In it he examined the park systems of seven states regarding the problems of site acquisition, development, administration, and educational purpose. It moved forward the development of state parks.
In 1922, six years after the founding of the National Park Service, Caparn wrote a plea that the charge of the National Parks Committee be of sufficient breadth to adequately protect the scenic wonders. He supported Jackson Hole National Monument in 1944 in a vigorous letter in The New York Herald Tribune, opposing the proposal in Congress to abolish it, since "such scenery is a national, not an individual or local possession." Written a year before his death, the letter contained most of his longstanding argument for state and national parks.
Caparn made contributions to landscape architecture in three principal areas: designing and writing about parks, designing and writing about botanic gardens, and teaching, including a course on landscape architecture, in presentations at professional meetings, in letters, and in articles in newspapers and journals. His designs of public and private landscapes were noted for their beauty, and his articles in professional journals and letters to the principal New York newspapers were often influential in shaping public policy.
Caparn married Clara Howard (Jones) Royall in New York City on October 12, 1906. She had a long career as a teacher of singing and leader of musical organizations in the city. Caparn died at New York General Hospital after a short illness on September 24, 1945, at the age of 80.
Resources
Oliver Chamberlain, Landscapes and Writings of Harold Caparn (West Conshohocken, PA: Infinity Press, 2013). 470 pp. 215 illus., bibliography of Caparn's writings, timeline of his life, work, client list.
-----, "An Artful Garden at Onteora Park," The Hemlock (Haines Falls, NY: The Mountain Top Historical Society, summer, 2010). On the cloister garden designed on the summer estate of NY socialite Mrs. Ben Ali Haggin, Jr.
The garden and estate have been carefully renewed. (extant)
-----, donor, Harold Caparn Collection, Division of Rare and Manuscript Collections, Cornell University Library.
Internet Resources
On his work in Yonkers, New York:
www.cityofyonkers.com/  Enter Find a Park, Playground, Grant Park; see photos, portion of one of lawn with boulders. (see also photos of Washington and Columbus Parks)
On his work for the Brooklyn Botanic Garden, Brooklyn, New York:
www.bbg.org/  Brooklyn Botanic Garden, see Visiting, scroll to map, click on Plant Family Collection, Cranford Rose Garden, Osborne Garden, Herb Garden, Zuk Magnolia Plaza, Lily Pool Terrace; See history sections of various gardens that refer to Caparn.
On the present site of the park in Jamaica Bay, Brooklyn/Queens, New York:
www.nps.gov/gate/  Click on Jamaica Bay Unit, Maps and Directions; click on map of Jamaica Bay Wildlife Refuge, for overview of the area described by Caparn in his article.
As a member of the parks committee of the City Club in 1931 he suggested the development of Jacob Riis Park.
On Caparn's father and daughter, Thomas John Caparn, Rhys Caparn: www.askART.com  (available fully without subscription on Fridays only)
On Caparn's cousin, William John Caparne: www.caparne.org  About Caparne, describes his gift of iris to his cousin Harold for the Brooklyn Botanic Garden
ABOUT THE AUTHOR
Oliver Chamberlain has published on landscape architects Harold Caparn and J. Wilkinson Elliott, a survey of musical forms of the nineteenth century, and pricing the performing arts as an arts administrator. He retired as Executive Director of the Center for the Arts at the University of Massachusetts Lowell.