Garden Dialogues 2020: Alexandria, VA
Garden Dialogues 2020: Alexandria, VA
Garden Dialogues 2020: Alexandria, VA
All events will be subject to local guidelines on gatherings, including social distancing, wearing face coverings, and stay-at-home orders. Attendance is limited to 30 people, not only to maximize the safety of those attending but to promote an intimate learning experience. If this event needs to be postponed to comply with local ordinances, registrants will be notified directly.
Called the 'Sevareid House,' this property was named for journalist Eric Sevareid, its famous former resident. In 2013 the mid-century house designed by Charles Goodman was revived by a passionate new owner. A garage and second apartment were added, as was a swimming pool. The previous pool was located at the bottom of the property, close to new homes that had since been built. The entry courtyard became a corridor formed by the original and new structures, with the front door obscured.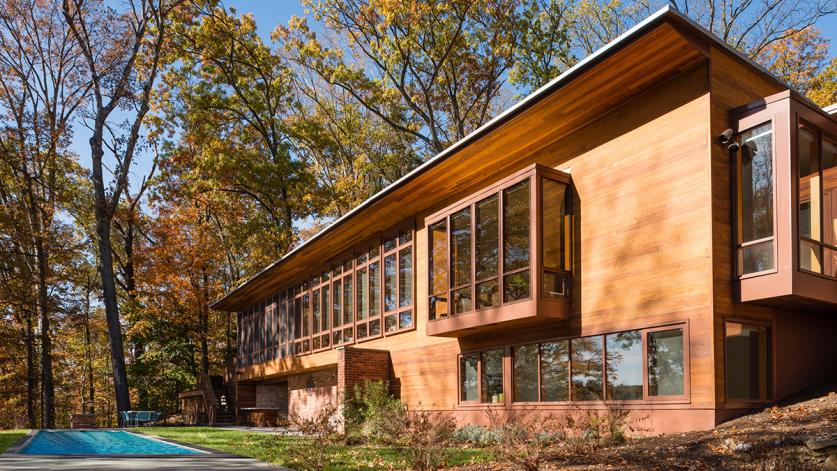 Jennifer Horn Landscape Architecture (JHLA) was hired to address the outdoor space. When work began, the house and gardens were in disrepair. Flat, usable landscaped spaces were non-existent. Reclaimed brick was used to build a raised planter along the original structure, and a stainless-steel rill leads visitors to a water basin at the front door. Scouring rush and ostrich fern create dramatic textures. Large retaining walls of segmental block form a triangular space in the rear called the "Kitchen Garden." Walls are softened with plants, and the large pavers with open joints provide some seating. Pachysandra, little king birch, and fern complement a reclaimed sculpture found on the site.
The pool is bookended with a raised fire pit and a spa. Large segmental block walls at the pool terrace create a lawn in which the pool can float. Oversized thermal bluestone paving mimics the concrete pavers of warmer climes, while plantings of viburnum, bottlebrush buckeye, and summersweet relate to the deer-heavy, native landscape of the hillside beyond.
This Garden Dialogue will be led by JHLA Principal Jennifer Horn. Please note: bees are kept onsite. 
2.5 LA CES™ professional development hours will be available to attendees.
Refund Policy
Cancellations and Refunds will be granted according to the following schedule:
Up to two (2) weeks in advance: 90% (Deduction represents administrative processing fees)
Less than two (2) weeks in advance but up to seven (7) days prior: 70%
No refunds will be made for cancellations seven (7) days prior to event
No refunds will be made for "No Shows" (a person who registers for a program but who does not cancel registration or attend the program).
Refunds will be processed as they are received or after the conclusion of the program, depending on the program date and when cancellation occurs. Refunds may take five (5) to seven (7) business days to process.