Garden Dialogues 2020: Sonoma, CA

Garden Dialogues 2020: Sonoma, CA
Garden Dialogues 2020: Sonoma, CA
Sweetwater Spectrum, Somoma, CA - 9:00 AM – 10:30 AM
Sweetwater Spectrum provides long-term housing solutions that meet the everyday living needs of adults with autism through an innovative pilot campus that opened in 2013. Building on published research and working with the non-profit's board of directors, the City of Sonoma, the architect, and other consultants, Roche+Roche Landscape Architecture fashioned an environment that supports the campus's goal of providing the residents with a 'life of purpose.'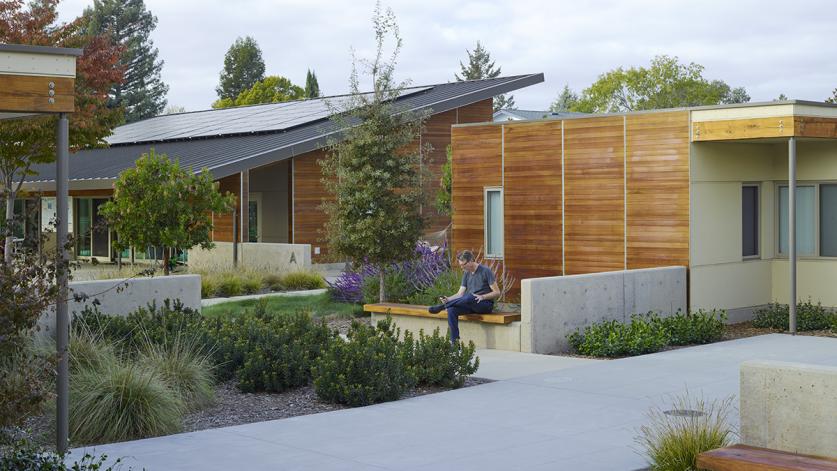 The 2.8-acre campus in the City of Sonoma includes four four-bedroom residences for sixteen residents, with room for future expansion. A community center with a teaching kitchen, workout studio, library, and a space for art and music provides enrichment for the residents. The campus also includes a therapy swimming pool and two spas. A1.25-acre organic vegetable garden, greenhouse, and orchard teaches healthy eating and provides physical skill development. The landscape and the organic gardens are an integral part of the living, working, learning, and social environment for residents, staff, and visitors to Sweetwater.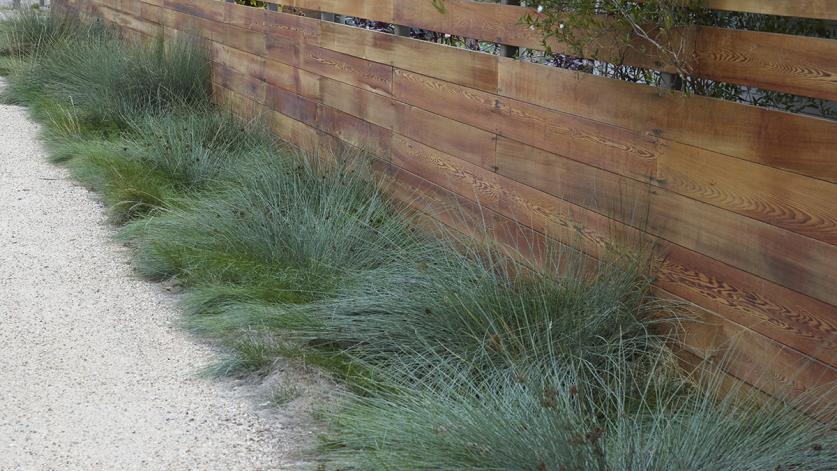 Sweetwater Spectrum has been recognized with an American Institute of Architects (AIA) National committee on the Environment Top Ten Green Project Award, an AIA National Housing Award, a 2015 Design Award from North Coast chapter of the American Society of Landscape Architects (ASLA), and a 2015 ASLA National Residential Design Award.
This Garden Dialogue will be led by the project's landscape architects, David and Nancy Roche, project architects, Leddy Maytum Stacy Architects, and Sweetwater Spectrum Executive Director Kory Stradinger.
Sonoma Overlook, Sonoma, CA - 11:00 AM – 12:30 PM
Sonoma became the destination of choice for a small group of Bay Area friends, who each found and purchased properties near town. The client chose this steep, wooded 17-acre site with volcanic rock fields less than two miles north of the historic town square, Sonoma Plaza.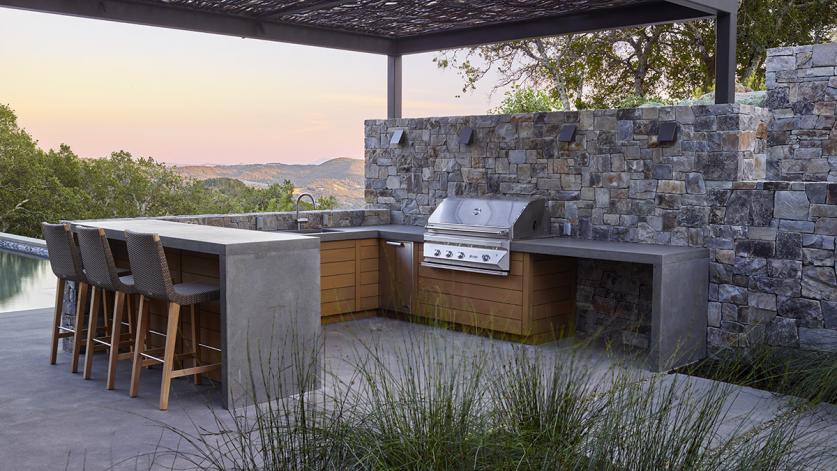 The directive from the client was to be rural contemporary, with clean geometry and a palette of natural materials, including large expanses of glass, rectilinear stone veneer, horizontal cedar siding, and concrete. Preserving and taking best advantage of the existing oak woodland and volcanic rock outcroppings was paramount. The landscape architect, Roche + Roche, worked with the architect and builder to take best advantage of the limited level space. The entire compound is off the grid, generating enough energy with hidden solar panels to power all on-site electrical needs, and charge the owners' electric vehicles.
Where the private gravel lane leaves the county road, low, gently curving walls planted with stachys and bouteloua frame the entry. These walls are made of boulders found on site, fitted together in the Inca style of tight, mortarless jointing. At the lowest developed level, a guesthouse, game room, and small play lawn are tucked into the trees.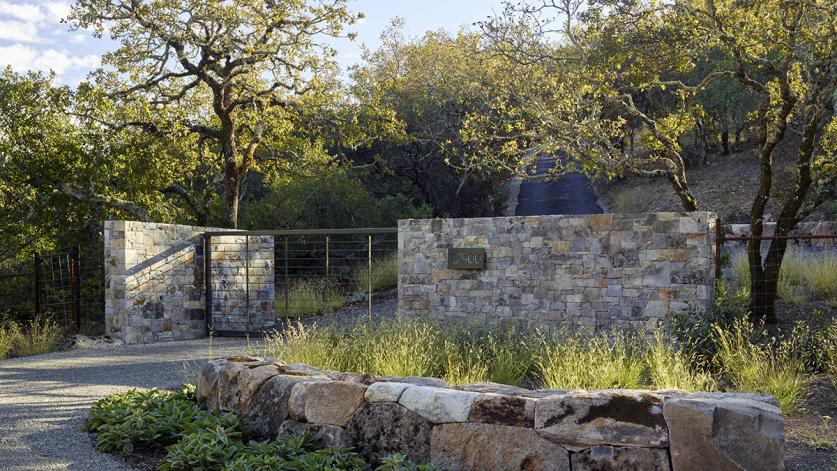 The client desired most of their daily living on one level, so the second-floor bedrooms, kitchen, and great room open out onto the concrete pool terrace, all with views over the Sonoma Valley and beyond to San Francisco across the Bay. The pool captures the reflection of existing oaks, and two recirculating water elements provide respite from the hot summer sun, while the naturalistic sweeps of plantings connect the compound to its natural surrounding landscape. Arbors of woven willow panels set in steel frames provide much-needed filtered shade and help define the outdoor space with a custom concrete fire pit.
At the top of the site, what was once a forgotten rock-strewn knoll is now a destination with spectacular views. A gravel terrace with gas fire pit utilizing existing volcanic rock as its backdrop overlooks a bocce court laid into a gap in the native rock outcroppings.
This Garden Dialogue will be led by David and Nancy Roche of Roche + Roche Landscape Architecture.
Transportation will be provided between the two locations.
LA CES™ professional development hours will be available to attendees, upon approval.
Refund Policy
Cancellations and Refunds will be granted according to the following schedule:
Up to two (2) weeks in advance: 90% (Deduction represents administrative processing fees)
Less than two (2) weeks in advance but up to seven (7) days prior: 70%
No refunds will be made for cancellations seven (7) days prior to event
No refunds will be made for "No Shows" (a person who registers for a program but who does not cancel registration or attend the program).
Refunds will be processed as they are received or after the conclusion of the program, depending on the program date and when cancellation occurs. Refunds may take five (5) to seven (7) business days to process.