Dan Kiley and Indiana

Dan Kiley and Indiana
Dan Kiley and Indiana

North Christian Church from The Landscape Architecture Legacy of Dan Kiley, Columbus, IN, copyright Millicent Harvey 2013
While not exactly Lourdes or the Holy Land, for devotees of Modernism, and especially landscape architect Dan Kiley, Indiana is an important destination for any Modernist pilgrim. The small City of Columbus, thanks to the foresight and generosity of J. Irwin Miller, has per capita and per square mile, one of the largest collections of mid-century architecture and landscape architecture in the country.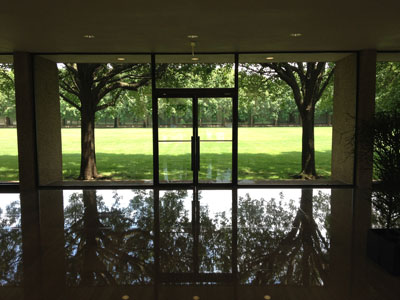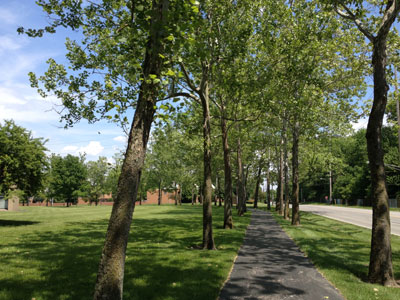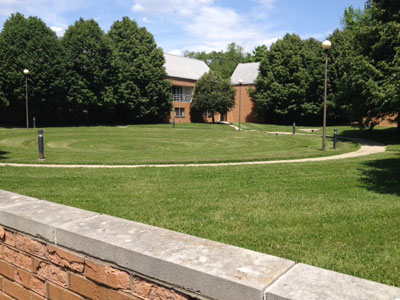 (upper and middle) Christian Theological Seminary, landscape by Dan
Kiley; (lower) residences at the Christian Theological Seminary
Housing and associated landscape. Photos by Charles Birnbaum.Miller believed that civic design excellence – architecture, landscape architecture, and public art – would aid his company in attracting and retaining a superior workforce through the creation and stewardship of a quality public realm. Through his foundation, beginning in 1957, Miller paid the design fees for new buildings provided the architect selected was on a list developed by an independent panel of experts. The genesis of this idea came during a conversation Miller had with architect Eero Saarinen. Originally focused on schools, the program soon expanded to include many different types of public buildings, including civic and governmental structures, churches, and places of business. 
The list of Columbus projects that include landscape architect Dan Kiley, most with the Millers serving as patrons, represent the greatest extant concentration of the master landscape architect's work anywhere in the United States. And, as I would learn during my visit to Indianapolis this past week, there are other Kiley designs elsewhere in the state, (with Mr. Miller, again as a patron) but more on that below.
As we organized the Dan Kiley exhibition last year, we were in contact with various Indiana-based organizations and stewards associated with Kiley's work and that of other Modernists. Their pride is evident and their stewardship ethic is superior.  Now, The Landscape Architecture Legacy of Dan Kiley, which recently concluded a run at the National Building Museum in Washington, D.C., has just begun a four-month long tour through Indiana – a homecoming in some sense – starting with the Indianapolis Central Library (through June 25), then the Indiana University Center for Art & Design in Columbus (July 11-August 1), and finally Fort Wayne's Allen County Public Library (August 11-September 24).
On May 29, I gave a lecture at the Indianapolis Museum of Art, which now owns and operates the Miller House and Garden in Columbus, the great collaboration between Dan Kiley and architects Eero Saarinen and Kevin Roche.  The event inaugurated the exhibition's Indiana run. But before that, along with my host from Indiana Landmarks, Mark Dollase, I spent some time touring projects in Indianapolis and discovered that the Christian Theological Seminary, is a monograph worthy little-known gem by Edward Larabee Barnes and Kiley. While the first building campaign was completed in the early 1960s, it appears that the two remained involved for another two decades with Barnes subsequently designing contiguous housing and a second Chapel. A cursory review of the Kiley archives at Harvard's Special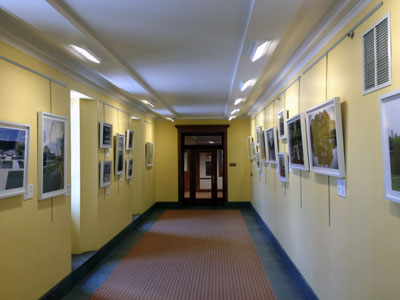 (upper) The Landscape Architecture Legacy of Dan Kiley on view at
the Indianapolis Central Library, photo by Charles Birnbaum; (lower)
The Indiana University Center for Art + Design, Columbus, IN, photo
courtesy the Columbus Area Visitor's Center Collections at the Frances Loeb Library suggests that Kiley served as a consultant to Barnes on the housing until 1983.
The interest in Kiley's design legacy is national and growing– and that's not just because of the number of institutions across the country that want to host the exhibition. We recently learned that Chicago-based landscape architect Kris Lucius has created the Dan Kiley Built Works Index to precisely locate and map every known, built Kiley work. It's a daunting task considering Kiley created more than 1,300 designs. When I shared this New England initiative with Dollase, the Vice President of Preservation Services at Indiana Landmarks, he noted that the Landmarks' staff has had conversations about something similar for Indiana. "We continue to learn more each day about Kiley's unrivaled legacy in the state," Dollase said, adding, "these discoveries only reinforce the necessity of doing this work."
We hope that as the exhibit travels throughout the State of Indiana, other similar discoveries will follow. For now, stay tuned, as it seems like a survey of the master's work in the Hoosier state is forthcoming.