Walks & Talks 2021: Lakeside Village with ArquitectonicaGEO

Walks & Talks 2021: Lakeside Village with ArquitectonicaGEO
Walks & Talks 2021: Lakeside Village with ArquitectonicaGEO
All events will be subject to local guidelines on gatherings. Face coverings will be required at all events and need to be provided by the attendees. Events have been planned to optimize social distancing. Attendance is limited to 25 people, not only to maximize the safety of those attending but to promote an intimate learning experience. If this event needs to be postponed to comply with local ordinances, registrants will be notified directly.
Join ArquitectonicaGEO  and learn about Lakeside Village at the University of Miami. This new 12.5-acre (540,000 sf), mixed-use student housing complex is comprised of 25 interconnected buildings to house 1,115 students. The site fronts Lake Osceola and features a lush, native tropical garden. The design objectives included delineating natural paths of travel, creating plazas and courtyards, reinstating a tropical landscape and designing a building that feels synchronous with the natural environment. Unlike a traditional housing facility, the village includes active indoor and outdoor spaces to facilitate engagement among the entire campus community.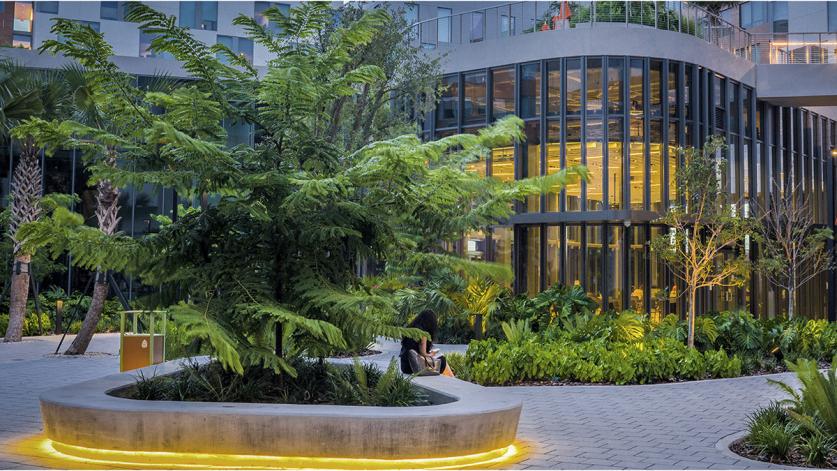 A waterfront parking lot was transformed into a large common outdoor garden and green space. The creation of a ground-level outdoor tropical space for a students' common drove the decision to raise the housing and other buildings above the ground.  
The project includes 25 extensive green roofs encompassing 60,000 square feet that act as heat and light sponges. Integrated rain gardens provide a habitat for native plants and wildlife as they collect rain water through downspouts coming from the green roofs.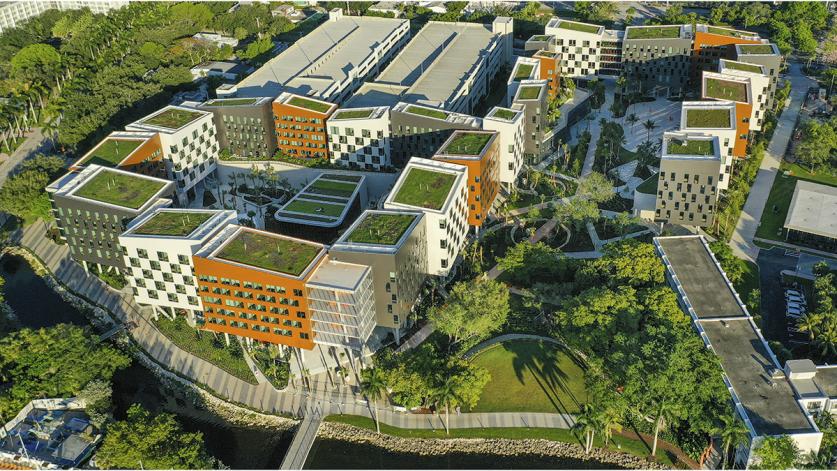 More than 100 trees were harvested from the site before construction began and were replanted at three separate on-site nurseries. This contributed to more 1.5 football fields worth of tree canopy. Limestone boulders were excavated to make room for the buildings' foundations and were repurposed throughout the site. Some of the limestone boulders became benches and others are featured in the rain garden. This became an ingenious way of creating iconic functional pieces for the site's character.
The village activates the surrounding area and highlights the lush greenery of the campus and it adds to the sense of community for those who live, work and learn there. 
About ArquitectonicaGEO: 
ArquitectonicaGEO is an independent and award winning Landscape Architecture and Planning Studio, where landscape architecture and architecture designs merge to create beautiful, functional and resilient solutions. Founded in 2005 by Laurinda Spear and Margarita  Blanco to design contemporary, technologically informed landscapes based on the principle of preserving a location's geographic character - the entire combination of natural and human  attributes that make one place distinct from another - an authentic design process that preserves the ecological and cultural environment. 
This Walk & Talk will be led by ArquitectonicaGEO Vice President Ben Hutchens and project manager Ana Faria and include ArquitectonicaGEO Director Margarita Blanco and Founding Principle Laurinda Spear.  
1.5 LA CES™ professional development hours will be available to attendees, pending approval.
Refund Policy
Cancellations and Refunds will be granted according to the following schedule:
Up to two (2) weeks in advance: 90% (Deduction represents administrative processing fees)
Less than two (2) weeks in advance but up to seven (7) days prior: 70%
No refunds will be made for cancellations seven (7) days prior to event
No refunds will be made for "No Shows" (a person who registers for a program but who does not cancel registration or attend the program).
Refunds will be processed as they are received or after the conclusion of the program, depending on the program date and when cancellation occurs. Refunds may take five (5) to seven (7) business days to process.