About What's Out There

Freeway Park, Seattle, WA
The foundational cornerstone of the What's Out There
®

database is a concise glossary organized under 27 types (e.g. Park), 49 sub-types (e.g. Vest Pocket Park) and 15 styles (e.g. Modernist). Written by leading scholars and academics (see Acknowledgments), these types and styles are presented as drop-down menus. These fields, along with the name of the designer and the location (all accessed through Advanced Search), will allow you to frame your individual research queries.

The database also contains hundreds of designer profiles illustrated with 200-word essays. Some designer profiles are linked to considerably longer 1200-word biographical profiles. A complement to these biographies is the collection of 300 profiles in The Cultural Landscape Foundation's publications Pioneers of the American Landscape (2000) and Shaping of the American Landscape (2009) and in oral history modules which place a spotlight on a select group of influential postwar practitioners.

The database also contains more than 1500 site entries cataloging some of our country's most important designed landscapes from before 1976, and in select instances, incorporating post-Bicentennial landscapes designed by a master whose career has been realized. These site entries are well-illustrated and include a concise site description and relevant links to styles, types, Pioneers, websites, and other related TCLF materials. The number of site entries grows each week.

What's Out There incorporates historic designed landscapes from all 50 states. It contains National Historic Landmark (NHL) properties which are designated with significance in landscape. In addition, the database selects from National Register of Historic Places sites to include those which relate to the designed landscape.

The What's Out There database will grow richer through an ongoing conversation with our audience and a series of carefully constructed partnerships with professional colleagues, like-minded institutions, and landscape architecture and planning programs within university communities. Submissions are crafted in accordance with concise guidelines and are vetted by staff.

Images included in the database are available for public use with attribution to The Cultural Landscape Foundation as well as to the photographer when one is noted.
NEW! Denver Guide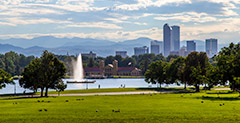 The first in a new series of illustrated Web offerings about the parks, gardens and open spaces in many of the nation's urban hubs.