Nathaniel Michler
McMillan Commission
Daniel Chester French
Dupont Circle
Historic Name: Pacific Circle; Reservation 60
Washington, DC
Situated at the heart of Washington's northwest quadrant, this public park is set within a ten-point traffic circle, where Massachusetts, Connecticut and New Hampshire Avenues converge. Although identified as public space in Pierre L'Enfant's 1791 plan for the Federal City, it functioned as an ad-hoc brickyard and slaughterhouse until after the Civil War. In 1868, U.S. Army Corps engineer Nathaniel Michler recommended that a circular park be developed according to L'Enfant's plan; construction of Pacific Circle commenced in 1871. It was renamed for Civil War Admiral Samuel Francis DuPont in 1882, with his bronze likeness erected in the center of the Victorian Gardenesque style park. Guided by the McMillan Commission, the park was redesigned in 1921, the statue replaced by a classical double-tiered marble fountain with a nautical theme designed by Daniel Chester French and Henry Bacon. In 1948 a median was built to separate interior ring road traffic from the local-access, exterior ring, and a tunnel constructed to route Connecticut Avenue traffic under the circle.
Today the 2.25-acre park features a densely treed green space encircled by a paved concrete walk lined with benches and intersected by walkways which align with the adjacent avenues. French and Bacon's fountain marks the center of the circle, surrounded by a large paved plaza and seasonal planting beds. Chess tables were added to the northeast edge of the park in the 1960s. The park is managed by the National Park Service and was listed in the National Register of Historic Places in 1978.
Javascript is required to view this map.
Washington, DC Guide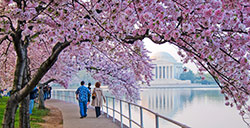 Building upon What's Out There, check out TCLF's new series of illustrated Web offerings about the parks, gardens, and open spaces comprising urban locations.