National Register of Historic Places
Rock Creek Park
Washington, DC
Established in 1890 through the concerted efforts of military engineers, businessmen and civic activists, the nearly 3,100 acres of Rock Creek Park is the national capital's natural park preserve. Chosen for its topographic intricacy, Rock Creek was identified as a suitable setting for a Presidential Mansion in 1867, in response to a Senate resolution directing the Committee on Public Buildings and Grounds to search for such a site. Rock Creek Park became a unit of the National Park Service on the same day as Sequoia National Park in 1890. Within the week, two more national parks - General Grant (now Kings Canyon) and Yosemite - were authorized. Of these early parks, only Rock Creek was intended to be urban, with the legislation language specifying the necessity to prevent urban encroachment, declaring that the park would "provide for the preservation … of all timber, animals, or curi-osities…, and their retention in their natural condition, as nearly as possible."
Frederick Law Olmsted, Jr., designer of the National Zoological Park, also in Rock Creek Valley, was a strong defender of the park. In 1918, he and his brother, John Charles Olmsted, prepared a report that provided the philosophy and practical framework for the development of the park between 1921 and 1950. Home to the National Park Service's only planetarium, the park also contains bridle, pedestrian, and vehicular circulation routes, stables, picnic pavilions, and numerous historic structures. It was listed on the National Register of Historic Places in 1991.

Javascript is required to view this map.
Washington, DC Guide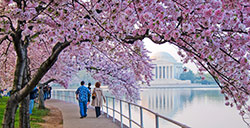 Building upon What's Out There, check out TCLF's new series of illustrated Web offerings about the parks, gardens, and open spaces comprising urban locations.