Southwest Duck Pond
Historic Name: Town Center West Park
Washington, DC
Located at the corner of Sixth and Eye Streets SW, the park is one of three Town Center Parks designed by William Roberts of Wallace McHarg Roberts & Todd (now known as WRT) for the National Park Service, in the Southwest Washington Redevelopment Area along Eye Street. Completed in 1972, the park was conceived as an urban retreat for local residents, office workers, and students of an adjacent school for exceptional children, and was part of a larger effort to enhance and increase recreational space in the neighborhood.
The park, westernmost and largest of the three related parks, was inspired by the regional landscapes of the Chesapeake Bay and Potomac River. The park's main feature is a large pond with four fountains, its naturalistic shoreline broken by three promontories edged with river rocks and planted with native riparian plants. Additional spaces contained nautically-themed play structures, now moved to Waterside Park. The interior of the park is planted with large shade trees and lined by low brick retaining walls, which give it a sense of enclosure. A circulating walkway connects each of these areas. Managed by the National Park Service until 2007, the park is now maintained by the D.C. Department of Parks and Recreation.
Javascript is required to view this map.
Washington, DC Guide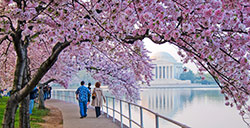 Building upon What's Out There, check out TCLF's new series of illustrated Web offerings about the parks, gardens, and open spaces comprising urban locations.