National Historic Landmark
Tudor Place
Washington, DC
In 1805, Martha Washington's granddaughter, Martha Custis Peter, and her husband, Thomas Peter, a successful tobacco merchant, established this estate in the hills above the port of Georgetown. Its remaining five and a half acres of gardens combine formal, naturalistic and Gardenesque design elements, and are the cumulative work of the Peter family, who occupied the estate for six generations, preserving and altering the grounds as Georgetown and the Federal City grew around them. Dr. William Thornton, the first architect of the U.S. Capitol, designed the neoclassical mansion at the center of the property. Shade trees, including a large Tulip Poplar, frame the South Lawn, which slopes upward to meet the circular portico. The northern grounds encompass several distinct garden spaces. The informality of the pastoral Bowling Green contrasts with the geometric clarity of the Boxwood Ellipse, the brick-edged Lily Pond, and the English Knot Garden, the last ornamented with heirloom roses. In the northeast corner of the property, the Tennis Court Garden lies secluded behind a screen of white pine trees and shrubs and framed by 200-year-old white oaks. The site also contains a number of historic outbuildings, including a Smoke House, Garage, and the Japanese Tea House. Tudor Place was designated a National Historic Landmark in 1960.
Javascript is required to view this map.
Washington, DC Guide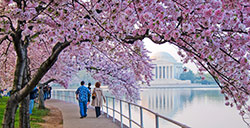 Building upon What's Out There, check out TCLF's new series of illustrated Web offerings about the parks, gardens, and open spaces comprising urban locations.