Washington National Cathedral
Washington, DC
In 1898 the first bishop of Washington, Henry Yates Satterlee, chose a site overlooking the Federal City for the Washington National Cathedral. Landscape architect Frederick Law Olmsted, Jr. developed a master plan for the 59-acre site and was involved in its execution from 1907-1928. His plan included internal roadways, locations for institutional buildings, a series of open spaces and gardens, and a Pilgrim's Path through the existing five-acre woodland. Florence Brown Bratenahl, the wife of the first Dean of the Cathedral, worked alongside Olmsted to implement the plan, especially the planting of the Bishop's Garden, a private garden 'out back' of the Bishop's house. Completed in 1928, the garden included plants of historical interest, biblical references and native plants. During Olmsted's thirty-year involvement on the National Cathedral grounds he also served as an adviser or designer on many celebrated Washington, D.C., projects including the Federal Triangle, the Jefferson Memorial, Roosevelt Island, and Rock Creek Parkway. The last stone for the Cathedral was set in 1990 and the stone-cutting yard was re-shaped into a tree-shaded, open lawn to accentuate the west entrance.
Javascript is required to view this map.
Washington, DC Guide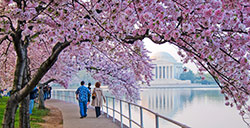 Building upon What's Out There, check out TCLF's new series of illustrated Web offerings about the parks, gardens, and open spaces comprising urban locations.