History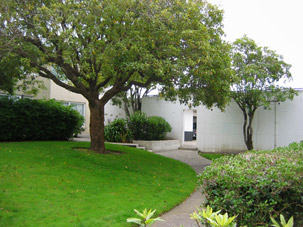 Parkmerced was developed in the 1940's by the Metropolitan Life Insurance Company of New York (MetLife) to create a long-term, solid investment and, at the same time, provide moderate-income rental housing for returning World War II veterans and their families. Designed by architect Leonard Schultze and Associates with planning and landscape architecture by Thomas Church with Robert Royston, it was designed as "a city within a city." The 191.5-acre site was developed in two phases from 1940 to 1951 and included nearly 3,500 residential units for more than 8,000 residents, a commercial zone, school, recreational areas, and a meadow.
Schultze and Church worked closely to develop the plan for Parkmerced. Church had established himself as a leading landscape architect of residential gardens in the Bay Area, often collaborating with cutting-edge, Modern architects.
He had also gained public recognition through several articles on small gardens in California Art and Architecture and a Beaux Arts-inspired, public open space, Memorial Court, in San Francisco. As war shortages curtailed private, residential work, Church, like many architects and landscape architects of the period, sought commissions for public housing projects. He was engaged in such Bay Area developments as Valencia Gardens, North Beach Housing, Sunnydale, and Potrero Terrace, however, Parkmerced was a career breakthrough for Church and would heavily influence a young Robert Royston who worked on the project as an intern.