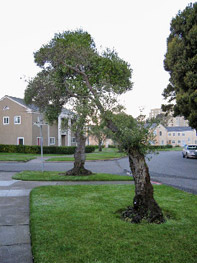 Courtesy Aaron Goodman
Changes have also been made within Parkmerced's remaining core.
The quick succession of owners during the 1990s led to a lower level of property maintenance. The current owner is spending over $110 million in much-needed deferred maintenance of the site, but has also initiated "improvements." The management is calling for changes in order to promote "the 'new' Parkmerced." Existing units are being treated as "mock-ups" or "testing-grounds" to initialize the overall renovations and to allow further large-scale redesign and removal of original features. One of the most noticeable changes has the removal of mature trees both on the Parkmerced land and in the adjacent right of ways. In the main circle, the older dominant Monterey Pines are being replaced with new species, changing the overall character. In the eastern part of the Meadow, the sweeping lawn has been replaced with individual garden plots and new trees. Besides introducing new species, the location of the new trees in the Meadow is not consistent with the original Church-designed plan.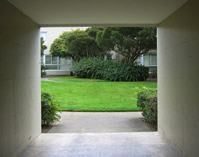 Moreover, the historic core has been dramatically altered by the relocation of the onsite school and its associated parking into the primary viewshed from Crespi Drive. These large and small-scale changes, along with the proposed redesigns, threaten to alter the overall composition of one of the most ambitious and comprehensively planned residential communities in the Bay Area.