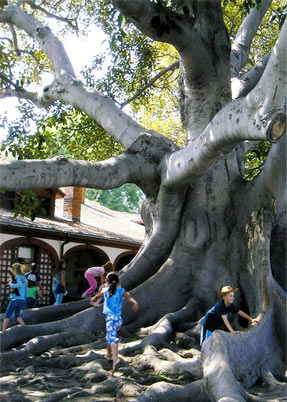 Courtesy Rancho Los Alamitos Historic Ranch and Gardens
learn
Site Address
Rancho Los Alamitos Historic Ranch and Gardens
6400 Bixby Hill Road
Long Beach, CA 90815
Phone: (562) 431-3541
The Rancho Los Alamitos Foundation offers general and school tours with an emphasis on cultural geography. Native American cultural workshops are offered for schools, taught by members of the Tongva community. Large-scale public educational programs center on a range of themes related to the site. The Foundation is committed to maintaining its tours and educational programming free of charge.
Online Resources
The National Park Service provides a Teaching with Historic Places Lesson Plan for the Rancho Los Alamitos.
Archives
Rancho Los Alamitos has an extensive archive that includes primary resources such as photographs, plans, maps, diaries, ledgers and business documents, correspondence, oral histories, and films.