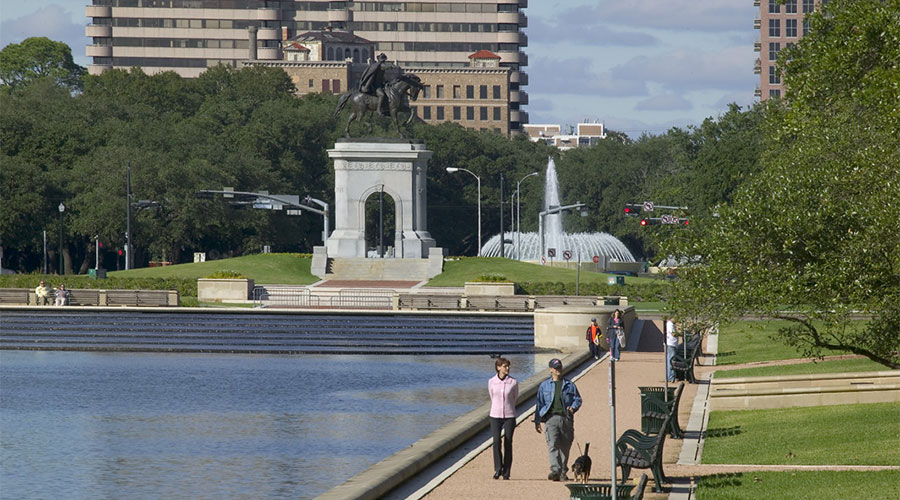 Photo © Tom Fox, courtesy Hermann Park Conservancy
"…and when the rich lands of this country shall be settled, a trade will flow to it, making it, beyond all doubt, the great interior commercial emporium of Texas."
    -from an advertisement for "The Town of Houston" in the Telegraph and Texas Register, August 30, 1836
The What's Out There Houston Guide from The Cultural Landscape Foundation (TCLF) outlines the design and stewardship of the fourth largest city in the United States. From the town's founding on the swampy ground at the confluence of Buffalo Bayou and White Oak Bayou to its growth as the world's largest center of refineries and petrochemical plants, the story of Houston's transformation can be read in the history of its natural and designed landscapes.     
This profusely illustrated interactive Guide has grown out of TCLF's ever-expanding What's Out There program, a free digital database that makes visible the designed landscapes in our midst. Currently featuring 1,900 landscapes, 900 designer biographies, and 10,000 images, What's Out There—and this Guide—are connected to TCLF's What's Nearby, a GPS-enabled function that locates all sites in the database within a 25-mile/40-kilometer radius of any given location.
This What's Out There Houston Guide includes illustrated profiles of some 35 landscapes and nearly 30 designers—and it will continue to evolve as TCLF expands the reach of its documentation efforts in Houston and throughout the American Southwest. Contemporary photos of each site illustrate the unique qualities of Houston's distinctive landscapes, from Picturesque to Postmodernist. These accompany original, detailed descriptions of a wide array of landscapes, including arboretums, boulevards, campuses, cemeteries, commemorative landscapes, garden estates, institutional grounds, plazas, parks, roof gardens, suburbs, and waterfront developments. An extensive essay complemented by historic photographs and maps provides information about the chronological development of Houston's legacy of landscapes and urban form.
Invaluable support for the development of the What's Out There Houston Guide was provided by Bartlett Tree Experts, Design Workshop, the Houston Parks Board, SWA Group, Uptown Houston, and Victor Stanley (a complete list of sponsors can be found here). The launching of the Guide in March 2016 coincides with TCLF's Leading with Landscape II: The Houston Transformation conference and the What's Out There Weekend Houston, the latter comprising free, expert-led tours of nearly 40 sites over the course of two days. We hope you will find this Guide a useful and compelling resource, one that will inspire you to explore the "Bayou City."
Houston's Legacy of Parks and Open Spaces→