Dumbarton Oaks
Washington, DC
A quintessential example of a Country Place Era garden, Dumbarton Oaks was designed by Beatrix Farrand in close collaboration with owners Mildred Barnes Bliss and Robert Woods Bliss.
A series of terraced gardens connected by paths and stairways layer into a deciduous woodland on the edge of Georgetown. Farrand was hired in 1921, shortly after the Blisses acquired the 53-acre property. She developed a cohesive plan for the gardens as a series of rooms with strong architecture, elegant sculptural detail, and a sophisticated and complex horticultural plan. These were implemented over more than 30 years, integrating traditional estate elements, such as a swimming pool, tennis court, and kitchen gardens. With elements of English and Italian gardens such as the Lovers' Lane Pool, the garden is uniquely American.
In 1940, the Blisses gave the upper 16 acres to Harvard as a center for Byzantine, Pre-Columbian, and Garden and Landscape Histories, while the lower 27 acres were given to the federal government as a public park. Farrand, in 1941, anticipating changes, wrote the Plant Book to direct future renovation and maintenance of the gardens. Farrand's design was refined after her 1959 death by former associate Ruth Havey (the Pebble Garden) and consulting landscape architect Alden Hopkins (the Ellipse.)

Javascript is required to view this map.
Washington, DC Guide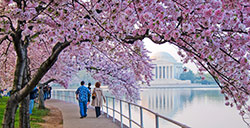 Building upon What's Out There, check out TCLF's new series of illustrated Web offerings about the parks, gardens, and open spaces comprising urban locations.