National Register of Historic Places
LANDSLIDE: At risk
Dumbarton Oaks Park
Washington, DC
This 27-acre woodland garden was originally designed as the naturalistic component within the estate gardens of Dumbarton Oaks. As part of the collaboration between landscape gardener Beatrix Farrand and philanthropists and collectors Mildred and Robert Bliss, the Park was conceived as a series of paths and meadows organized around a small, unnamed tributary of Rock Creek. The larger 53-acre garden complex was crafted, Bliss wrote, to offer the "illusion of country life," and the Park with its naturalized expanses of wildflowers, bulbs, and woodland shrubs, both native and exotic, was the culmination of that effect. Built elements include two arbors, multiple benches and footbridges, two pump houses, and 18 waterfall dams, all of rustic Arts & Crafts design. The woodland garden was designed both as the ultimate destination within Dumbarton Oaks' garden exploration and as a "wild" complement to the formal terraced gardens above the stream valley. Dumbarton Oaks Park was given to the federal government in 1940 and is managed by the National Park Service as part of Rock Creek Park. It was listed on the National Register for Historic Places in 2004.
Javascript is required to view this map.
Washington, DC Guide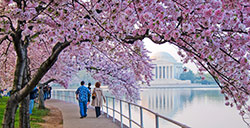 Building upon What's Out There, check out TCLF's new series of illustrated Web offerings about the parks, gardens, and open spaces comprising urban locations.