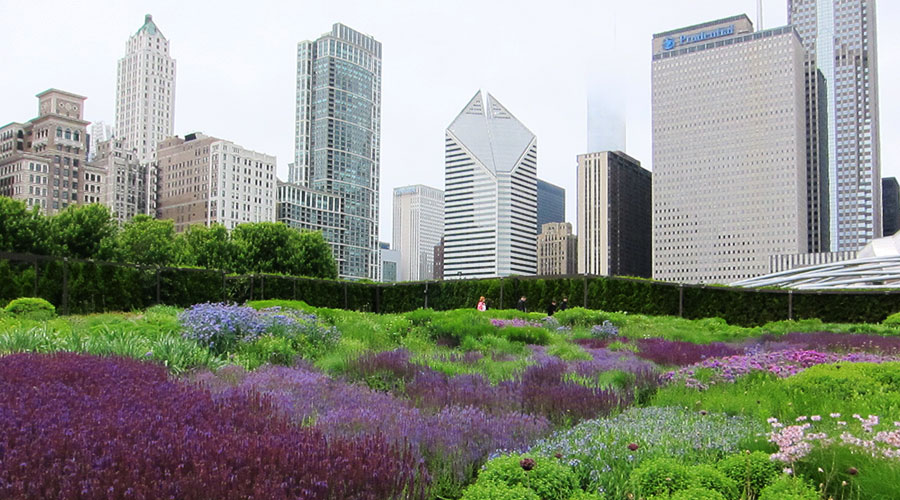 Photo © Cary Simmons
"The people of Chicago must ever recognize the fact that their city is without bounds or limits."  
–Daniel Burnham, 1909
The What's Out There Chicago Guide from The Cultural Landscape Foundation (TCLF) covers more than two centuries of landscape architecture and design. From its Picturesque beginnings, through the evolution of the Prairie Style, and into today's continued development of unique parks and open spaces, Chicago has lived-up to its motto Urbs in Horto – a "City in a Garden."  
This profusely illustrated and highly detailed Guide is an outgrowth of What's Out There, TCLF's ever-expanding, free, online database of cultural landscapes that currently features more than 1,900 landscapes, 900 designer profiles, and 10,000 images. This Guide and the What's Out There database also feature What's Nearby, a GPS-enabled function that locates all sites in the database within a 25-mile radius of any given location. In addition to these resources, TCLF's What's Out There Chicago Kid's Guide, produced in 2011, is a fantastic resource to help children experience and appreciate the city's landscape legacy.
The What's Out There Chicago Guide launched in November 2015, coinciding with the American Society of Landscape Architects' Annual Meeting and Expo. Starting with almost 70 sites and more than 30 designer profiles, the Guide will continue to evolve as sites are documented.
The creation of the Guide is a collaborative effort. TCLF gratefully acknowledges the American Society of Landscape Architects Illinois Chapter, the Richard H. Driehaus Foundation, Christy Webber & Company, and Oviatt Media. We hope you will find this Guide a useful and compelling resource, one that will inspire you to discover what's out there.
Chicago's Legacy of Parks and Open Spaces→