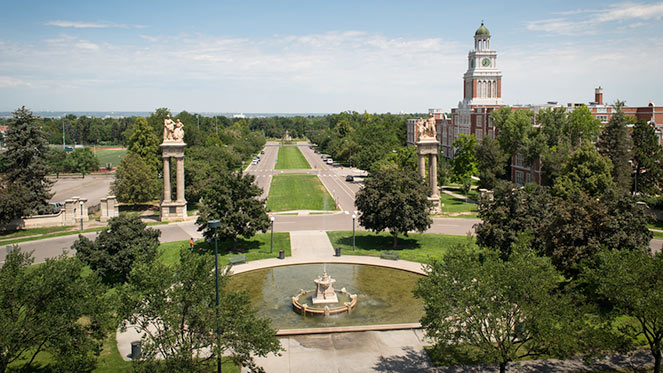 City Park Esplanade. Photo by Brian Thomson
"In the end, the city became a work of urban landscape art, a garden city if you will. And the subsequent mountain extension of the system was promptly recognized as a unique tourist attraction and a gateway to the Rocky Mountains."
– Don and Carolyn Etter, the former co-Managers of Denver's Department of Parks and Recreation
The What's Out There Denver Guide from The Cultural Landscape Foundation (TCLF) is the first in a new series of illustrated Web offerings about the parks, gardens and open spaces in many of the nation's urban hubs.  This Denver Guide covers more than 150 years of landscape design history and city shaping, with a range of landscape types including parks, parkways, boulevards, and park systems, along with cemeteries and burial grounds, botanical gardens, suburbs, golf courses, campus and institutional landscapes, civic centers and plazas, even transit and pedestrian malls.  
This Guide includes short essays about each site, six to eight photographs and biographies of the landscape architects and designers associated with them.  There are also links to external Web sites for additional information.
The series builds upon the What's Out There free, online profusely illustrated database of the nation's designed landscape legacy and currently houses more than 1,700 sites, 900 designer profiles and 10,000 images; and it's goal, as with all of TCLF's programs, events and initiatives, is to make our shared landscape legacy visible, to tell the stories of individual places and their designers. 
For residents and visitors of each landscape destination in this Guide, these may be places they see, in some cases daily, but do not know the stories behind their creation or evolution over time. The What's Out There Denver Guide makes these stories known while nesting the design in a larger narrative. 
This Guide is the first phase of an online resource that will expand over time.  More sites and designers will be added to this and all the subsequent Guides, and additional functions are being developed including the ability to build customized itineraries. The Guide also dovetails with What's Out There Weekend Denver in 2015, two days of free expert-led tours of publicly accessible, designed landscapes in the Mile High City.
Finally, the Denver Guide is a collaborative effort and we are grateful for the participation of project partners the American Society of Landscape Architects (ASLA), the Colorado Chapter of ASLA (with whom we're also partnering on What's Out There Weekend Denver), and the College of Architecture and Planning at the University of Colorado, Denver.   We are also thankful for the support of Design Workshop, without whom this would not have been possible.
Denver's Legacy of Parks and Open Spaces→