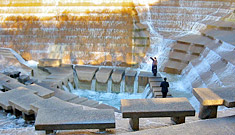 Philip Johnson's Water Gardens.
Help
Show Your Support
Given the current situation it is imperative that the public become involved in the future of the plaza. Concerned citizens should contact their council member and the city planning office. It is also important that the public make requests regarding the extant of work being done on the site, assuring that any work or changes to the site are completed with public input.
City officials should be made aware that dedicated funding for the renovation of Heritage Plaza is of the highest priority. As with Philip Johnson's Water Gardens, which originally opened in 1974 and reopened following extensive renovations in the spring of 2007, Heritage Plaza can be a success story that both the city and its citizens can be proud of.
Get Involved
Contact the following organizations and city leaders and let them know that you are interested in becoming involved in the maintenance and preservation of Heritage Plaza:
Adelaide Bratten Leavens, Executive Director
Streams and Valleys Committee
(817) 926-0006
Jerre Tracy, Executive Director
Historic Fort Worth, Inc.
(817) 336-2344
Daniel Carey, Director Southwest Office
National Trust for Historic Preservation
(817) 332-4398