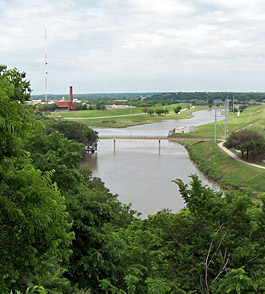 History
In the late 1960s, the Fort Worth Streams and Valleys Committee commissioned Lawrence Halprin and Associates to develop the design for a 112-acre Heritage Park to run along the Trinity River intended to recognize the city's significant history, increase the available urban park space in the city's downtown, and honor the Committee's dedication to the historical and ecological treasures of Fort Worth – as well as the nation's 1976 Bicentennial.
Part of the larger Heritage Park project, Heritage Plaza is sited on a steep bluff where the West and Clear Forks of the Trinity River converge, just north of the Tarrant County Courthouse and west of the Paddock Viaduct (the Main Street Bridge). The plaza site was selected for its close proximity to the military post of Fort Worth, established by Major Ripley Arnold in November 1849. It was chosen both for the historic symbolism and for the impressive views that originally drew settlers to the spot. The importance of the area was noted by landscape architect George Kessler in his 1909 plan for Fort Worth, and later studies of this area concurred that the site was central to the goals of preserving views of the Trinity River and of connecting downtown Fort Worth to the river.
The Halprin-designed Heritage Plaza was constructed circa 1977 at an approximate cost of $1.3 million. Halprin previously prepared planning studies of the Trinity River in 1970 and was familiar with the site-specific issues. In the Fort Worth Star-Telegram (January 13, 1976), Halprin was quoted as saying, "Next to the Trinity itself, the bluffs are Fort Worth's greatest natural assets. Their physical form is an amphitheater 50 to 80 feet high and almost a mile long. They are well-wooded and command fine views in several directions." Today, with its strategic position along the Trinity River, the plaza also provides views to the Paddock Viaduct (Main Street Bridge), the historic TXU Power Plant, and the future Tarrant County College.