Learn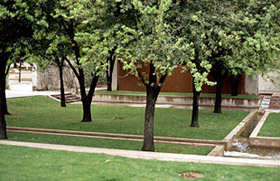 Site
Heritage Park
The intersection of West Bluff Street and Belknap Street    
Fort Worth, TX 76102
Designer Bio
Archives
Heritage Plaza Vertical File
Fort Worth Library

Print
Berryhill, Michael. "Park plaza to be dedicated". Fort Worth Star Telegram, April 13, 1980.
Darovich, Donna. "Heritage Plaza opened on river". Fort Worth Star Telegram, April 19, 1980.
Halprin, Lawrence."Interview with Lawrence Halprin." Fort Worth Star Telegram, January 13, 1976.
Hardin, Dee. Interview with Dee Hardin, West District Superintendent of Fort Worth Parks and Community Service Department, 2001.
Hirsch, Alison Bick. "The Fate of Lawrence Halprin's Public Spaces: Three Case Studies." Thesis, University of Pennsylvania, 2005.
Streams and Valleys Committee. "Heritage Plaza Plaza Dedication Brochure."
Thompson, George F. Landscape In America. Texas: University of Texas Press, 1995.
"Heritage Plaza – Still Closed."
West and Clear, February 1, 2008.
"Hidden Heritage. Views from a downtown park are beautiful-but its future is murky"
Fort Worth Weekly: Metropolis, February 20, 2008.
All Photos courtesy Elizabeth K. Meyer or Michal Tincup, unless otherwise noted.