A Celebration of Lawrence Halprin Continues

A Celebration of Lawrence Halprin Continues
A Celebration of Lawrence Halprin Continues
TCLF celebrated the life and work of landscape architect Lawrence Halprin (1916—2009) with several events in 2017. Halprin was undisputedly among the foremost landscape architects of the twentieth century. In a career that spanned six decades, he designed myriad iconic Modernist spaces, including the Franklin Delano Roosevelt Memorial (Washington, D.C.), Freeway Park (Seattle, Washington), the Portland Open Space Sequence (Portland, Oregon), and the Los Angeles Open Space Network.
On November 4, 2017, TCLF presented a daylong symposium on Halprin at the A+D Architecture and Design Museum in Los Angeles. Appropriately enough, the symposium focused on Halprin's impact on downtown Los Angeles and was part of a three-month series of public events honoring his rich local and national legacy. The keynote address was delivered by Kenneth Helphand, the Philip H. Knight Professor of Landscape Architecture Emeritus at the University of Oregon, who gave a masterful overview of Halprin's prolific career.
The museum was also the setting for TCLF's traveling photographic exhibition, The Landscape Architecture of Lawrence Halprin, which will remain on view there through December 31, 2017. The exhibition, created in 2016 (the centennial anniversary of Halprin's birth), features 56 newly commissioned photographs by leading landscape photographers who documented dozens of Halprin's major works, as well as recently rediscovered residential projects completed early in his career. It will next travel to the Fort Worth Community Arts Center in Fort Worth,Texas, where it will be on view from January 26 through February 17, 2018. Downtown Fort Worth is home to Heritage Park Plaza, designed by Halprin and built to commemorate the city's founding as part of the 1976 U.S. Bicentennial Celebration. The plaza was listed in the National Register of Historic Places as a significant Modernist landscape in May 2010.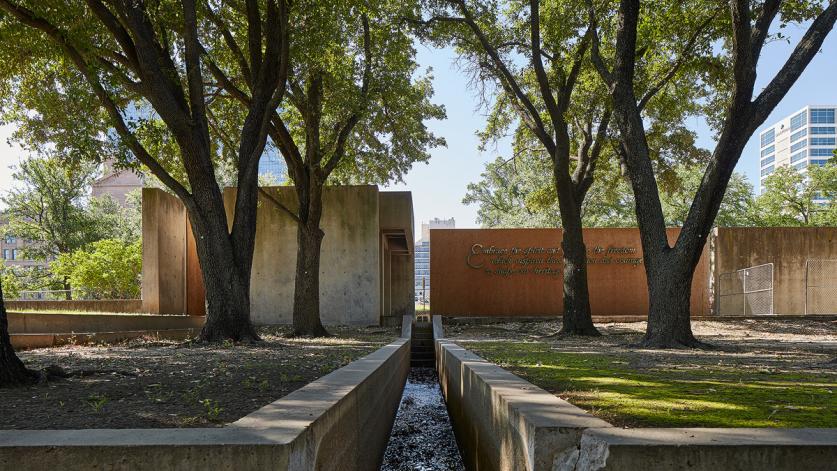 The exhibition is also slated to appear at NorthPark Center in Dallas, Texas, from February 28 through April 30, 2018. Halprin teamed with fellow landscape architect Richard Myrick in 1965 to design the site for NorthPark Center, one of the largest regional shopping centers in North America, which doubles as an art gallery.  
The exhibition will continue to travel across the nation through 2020. For information about becoming a host institution, contact Nord@tclf.org.