How Soon We Forget: Skyline Park
How Soon We Forget: Skyline Park
How Soon We Forget: Skyline Park

Designed by visionary Lawrence Halprin, Skyline Park has been ignored and mismanaged, and is in danger of being lost forever.
Skyline Park and the United States Air Force Academy are two important works of Modern landscape architecture in Colorado. Designed, respectively, by visionaries Lawrence Halprin and Dan Kiley, the place high in the world of art and architecture. However, unlike Kiley's Air Force Academy, which is now being restored and is cherished by its stewards, Halprin's Skyline Park has been ignored and mismanaged, and is in danger of being lost forever.
History
Since Skyline Park's dedication over 25 years ago, it became a signature landmark for the Denver, "where people may pause a while to enjoy the beauty and be themselves renewed." It remains one of the few public parks in downtown Denver. Recognized internationally as an outstanding example of Modern landscape architecture, it is an emblematic masterwork by Lawrence Halprin, one of the most important landscape architects of our time. Skyline Park exemplifies Halprin's unique vision of the importance of a city's "livability" within the urban context. Halprin envisioned cities as "exciting and exhilarating experiences that should entreat all the senses". His designs defined the joyous spirit of urban public life and spurred cities like Denver, Portland, OR and Rochester, NY to value their neglected urban and civic spaces and reevaluate their use.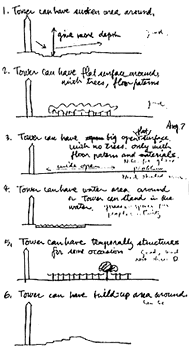 Skyline Park is a linear park covering three city blocks between 15th and 18th Streets in downtown Denver. The D & F Tower, a National Historic Site, forms the west border of Denver's Downtown Historic District and is the focal point of the parks original design. The park's location makes it an important urban pedestrian space in the central downtown area.
Using nature as inspiration, Halprin captured Colorado's rugged beauty in his design in which deeply recessed walkways meander through man-made steps and ledges on a rhythmically irregular course. Incorporated into the design is a fountain of cascading water, reminiscent of the red rock outcroppings found in the areas surrounding Denver. Clusters of deciduous shade and fir trees, seating areas and walkways recreate Colorado's natural beauty in this urban space. Skyline Park's informal atmosphere encourages people to participate in the park on many levels. On a sunny day it was typical to see hundreds of people come to the park to eat, read, and enjoy the relaxing atmosphere created by the water from the fountains.
Initially, Skyline Park was a huge success; however, because of changes in use, deterioration and poor maintenance, today's park faces a number of social and physical problems and a labeling of 'uninviting'.
Threat
Five issues to be resolved include: poor visibility from the street, circuitous movement through the park, problem youth and adults, lack of connection to the urban fabric, and maintenance and infrastructure problems. To address these, city managers are considering 'redesigning' Skyline Park. It is important to recognize that the problems at Skyline are not the result of poor original design or of the city's evolving social context.
The current conditions are the result of neglect, lack of appropriate maintenance, and natural weathering over an extended period of time. Old and worn surfaces, broken site furniture, inadequate lighting, overgrown vegetation, and ancient mechanical systems are what has changed the character of the park, and made it less inviting to the public. These maintenance issues reflect a lack of commitment by the City and County of Denver to the larger infrastructure improvements that all parks need for long-term health and sustainability.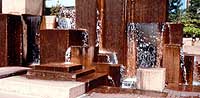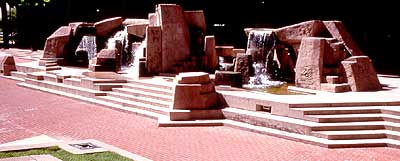 Over the past two years, efforts have encouraged the City of Denver to consider restoration and rehabilitation of the park versus demolition and redesign. In response to this situation, the Friends of Skyline Park was formed, consisting of citizens, and members of the design and preservation community. This group is dedicated to renewing Skyline Park in a manner which preserves the original purpose for which the park was dedicated, as well as the original Halprin design. The Friends believe Halprin should be involved in any renewal movement.
Efforts to save Skyline Park should not be mistaken for a nostalgic desire for the past or avoidance of meeting the social changes and challenges of the present and future. While some modifications to the original design will be necessary to update the park, and resolve existing problems, this could be done in a way that would not destroy the Halprin's intent, and it could most likely be done at less cost.
Skyline Park is not just another city park; it is a signature work of art by an internationally known landscape architect, and one of the most important urban spaces built in the 20th century. The park is currently under review by the Denver Landmarks Commission for landmark status, which could help the park to receive the preservation treatment its so fully merits.
How to Help

For additional information contact:
The Friends of Skyline Park
2074 S. Adams Street, Denver, CO 80210-3602
Tel: 303-756-2575     Fax: 303-639-5581
Email: [email protected]