Edward Daugherty Weighs In on Girl Scouts Garden in Savannah, GA

Edward Daugherty Weighs In on Girl Scouts Garden in Savannah, GA
Edward Daugherty Weighs In on Girl Scouts Garden in Savannah, GA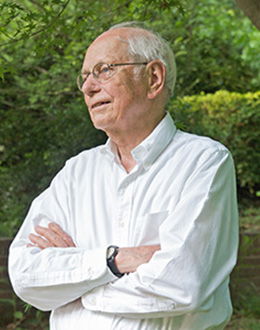 EDITOR'S NOTE: The following letter was written by revered landscape architect Edward Daugherty to the Savannah Historic District Board of Review. On March 11, 2020, the board of review considered a proposal

to replace the recently destroyed Clermont Lee-designed garden

at the birthplace of Girl Scouts founder Juliette Gordon Low in Savannah, Georgia. Here Daugherty recalls his personal relationship with Lee and provides context for the garden she designed for the Girl Scouts in the 1950s. Still creating landscapes at age 93, Daugherty was recently profiled in the

Atlanta Journal-Constitution

, which called him "Atlanta's leading landscape architect." In 2010 he received the American Society of Landscape Architects Medal, the organization's highest honor. 
March 10, 2020
Mr. Dwayne Stephens
Chairman
Savannah Historic District Board of Review
112 East State Street
Savannah, GA 31401
RE: The Context of the Juliette Gordon Low Garden
Dear Chairman Stephens and Members of the Board of Review,
The "birthplace" of girl scouting does not exist in a vacuum. The house and its grounds are part and parcel of the fabric of the historic nineteenth-century Savannah, Georgia, from which girl scouting sprang. The solids and voids of the house, garden, and outbuildings are typical of Savannah residential architecture to this day. That's context.
A garden is the captive open space that makes tight living possible. The adaptations of the 1880s, without a doubt, included space for multiple uses: gardening, play, strolling, entertaining, airing bed linens, and room to wring a chicken's neck. Flower beds were designed to be traversed and observed from above. Shade trees were planted to relieve midday heat. It was a private Eden in a compact city.
In that environment, a creative, strong-willed woman advocated independence, self-respect, and decisiveness for girls and young women. Juliette Gordon Low and landscape architect Clermont Lee were two of a kind. Strange it is that their sensibilities should be ignored now.
I knew Clermont personally and professionally as someone who was independent, decisive, and self-aware. She was thorough in her research, precise in design, and demanding in execution. Her 1953 plan for the resurrected Low Garden acknowledges life's demands.
What a great new idea for girls and young women to enter into the gated "birthplace" through a flowering Eden, a virginal beginning where young women learn about transition and change of life. The young girl from afar will learn that a semi-tropical, humid Savannah environment is different from grassland prairie. A museum house requires a museum garden.
The frippery of restored interior Victorian furnishings does not excuse the loss of the honest and organic lesson of its garden support. The story is incomplete. Trees in pots and pavement are death-defying. Trees in gravel and oyster shells are rooted in life. That is a life lesson of scouting.
—Edward L. Daugherty, FASLA
Daugherty Landscape Architects
Georgia License #43
>
 A copy of The Cultural Landscape Foundation's letter to the Savannah Historic District Board of Review can be downloaded
here
.