Exhibition Opening: Halprin in San Francisco

Exhibition Opening: Halprin in San Francisco
Exhibition Opening: Halprin in San Francisco
Some 100 people attended the opening of The Landscape Architecture of Lawrence Halprin at San Francisco's Palace of Fine Arts, including his wife Anna, the innovative and influential dancer/choreographer, and daughters Daria and Rana. It was the first stop for the traveling exhibition following its debut at the National Building Museum and symbolically important because Halprin lived and worked in the Bay Area his entire career.
Along with Halprin family members, general manager of San Francisco Recreation and Park Department Phil Ginsburg, TCLF Board Members Rene Bihan and Alexis Wood, former Halprin colleague Andrew Sullivan, several of the photographers who contributed works to the exhibition, and numerous others were in attendance – "a really interesting crowd of art lovers and patrons," Bihan noted. Of the exhibition, Sullivan said: "TCLF has curated a beautiful set of photographs that documents the range and breath of Larry's career. It's like looking at old friends through a fresh lens … Having spent several years working closely with Larry on some of his final projects, the photos in this exhibition revived … memories of his creative force and genius."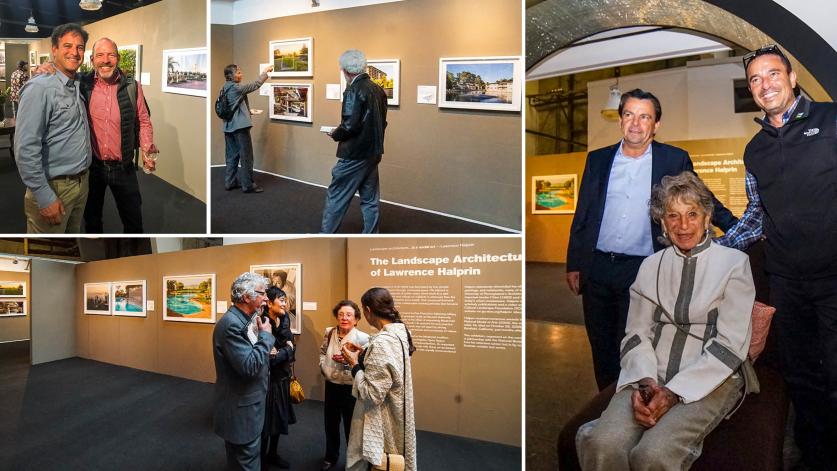 From early Modernist residential projects in the 1950s to capstone projects, such as Sigmund Stern Grove and the Yosemite Falls Corridor, that opened when Halprin was 89 years old, the exhibition covers a broad array of projects throughout San Francisco, as well as elsewhere in the U.S. and in Israel. The exhibition is meticulously and elegantly installed by Non Plus Ultra, the event management firm that is currently operating the city-owned Palace of Fine Arts.
Daria Halprin wrote TCLF and said: "It means a great deal to have this extraordinary documentation of our father's work returning home to San Francisco through the efforts of TCLF. As the pressing need for sustaining community landscape on all levels increases, it seems particularly relevant to keep alive the words, visions and activism of land stewards. Our family takes great pride in Larry's contributions and hopes that the next generation of stewards will carry on with unrelenting creativity and perseverance."
Daria's sister, Rana, observed: "I appreciate … TCLF's commitment to elucidate and encourage public awareness of my father's legacy. The photographic exhibit brings my father's artworks into focus, offering the public an expansive view of his life-long creative journey and vision. He created spaces as a stage of possibilities for people to be part of, to generate experience and vitalize human participation in relation to the built environment and the 'spirit of place.'"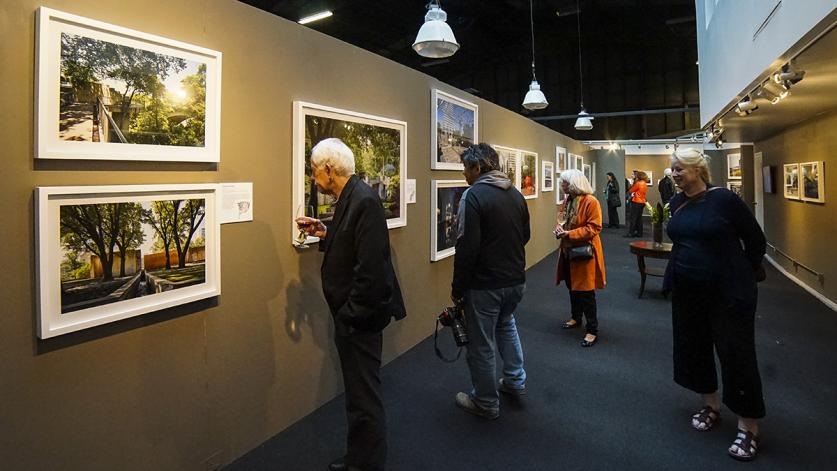 The Lisa and Douglas Goldman Fund and Architectural Resources Group made the exhibition in San Francisco possible. At Non Plus Ultra, Dave Peterson, Erin Mustille, and Kelsey Issel were indispensible to the exhibition's widely lauded installation, and Phil Ginsburg and Cassandra Costello at San Francisco Recreation & Parks Department provided leadership and guidance in bringing The Landscape Architecture of Lawrence Halprin to the Bay Area.
The exhibition will remain on view through September 4, 2107, (additional information is available on the San Francisco Recreation and Parks department website here), and will then be hosted by the A+D>Architecture and Design Museum Los Angeles from September 29 – December 31, 2017.