Faye Harwell

Faye Harwell
Faye Harwell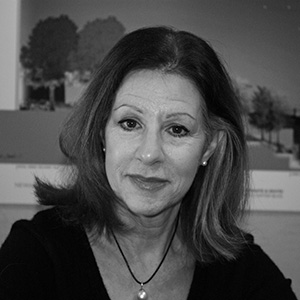 A cofounder of Rhodeside Harwell, Faye Harwell, FASLA, RLA, has designed award-winning landscapes ranging from gardens, riverfronts, and U.S. embassies to community parks. She is one of only three women to design a memorial on the National Mall in Washington, D.C., the George Mason Memorial. She received her M.L.A. from the University of Pennsylvania, studying with Ian McHarg. Green infrastructure design has fueled her passion, lecturing, and work, from her landmark riverfront restoration in Edmonton, Canada, to, most recently, the new U.S. embassies in Indonesia, Kosovo, and Uganda. 
Ms. Harwell's work has been featured in numerous articles in Landscape Architecture Magazine, as a speaker for the American Society of Landscape Architects (ASLA) nationally and regionally, and in print media and film. Recognized for creating new places, she also breathes life into treasured historic landscapes. She has focused on revitalizing significant works, including multiple projects by Frederick Law Olmsted, Sr., and the Olmsted Firm, among them Branch Brook Park in Newark, New Jersey, and the National Zoo in Washington, D.C. Her practice also includes work on U.S. embassy landscapes in the United Kingdom, India, Italy, and elsewhere, carefully balancing history with security. She has served on boards and committees of the ASLA and other organizations, including current service with the McHarg Center at the University of Pennsylvania.

Ms. Harwell's donation to the Oberlander Prize is made in memory of Rose and Claude Brunswig.
Statement: I first met Cornelia in the early 1990s, sitting next to her at an ASLA lecture. As we chatted, we wound up grabbing a lunch bite together. As the conversation continued, it was clear we had more in common than being women in landscape architecture who shared a passion for making ecologically resilient places. We also discovered we had shared European roots. As a first-generation American, my entire family, other than my parents, were (and still are) living overseas, scattered among France, England, and Switzerland. Like Cornelia, my parents left Europe to come to North America to escape the ravages of World War II. What an exciting coincidence to share this love of landscape and its design, as well as a cultural background.
I have had the honor to be with Cornelia several times since, at her book signing for The Cultural Landscape Foundation, at historic preservation conferences, and at other events in which I participated. Her charm, her warmth, her energy, and her brilliant designs have been a constant inspiration. Joining TCLF's 100 Women Campaign is a remembrance of the commitment of my parents, now both gone, to create a meaningful place in society, and to give back to the adopted country they so loved. As a landscape architect, as a woman, as a child of World War II, and with my passion for landscape and landscape history, joining this effort is the right fit, just as the Oberlander Prize is the right gesture for its time.