Halprin's Portland Open Space Sequence Rehabilitated

Halprin's Portland Open Space Sequence Rehabilitated
Halprin's Portland Open Space Sequence Rehabilitated
On July 30, 2019, the newly rehabilitated Portland Open Space Sequence in Portland, Oregon—comprising the Ira Keller Fountain Park, Pettygrove Park, Lovejoy Fountain Park, and the Source Fountain—was officially reopened with a ribbon-cutting and a parade. The total cost for the work was $3.85 million, with $2.15 million raised in donations and the remainder supplied by City Hall. The choreographed sequence of landscapes was designed between 1965 and 1978 by Lawrence Halprin & Associates as an eight-block-long ensemble of parks and plazas meant to attract middle-class residents to the Central City.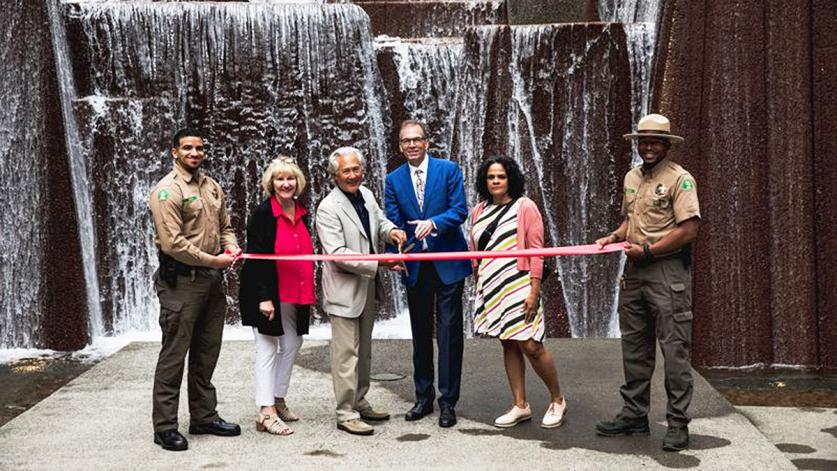 On December 21, 2016, the Portland City Council approved the formation of the Portland Open Space Sequence Local Improvement District, which began the process to rehabilitate the fountains while carefully  maintaining Halprin's original design intent. The extensive work included critical repairs, such as stormwater drainage improvements, mechanical renovations, and lighting replacement, as well as work to comply with the Americans with Disabilities Act. The Ira Keller and Lovejoy fountains, which required the most extensive repairs, were the first to see improvements. The Petty Grove Park and Source fountains were repaired in 2019.
The fountains were built in an era preoccupied with the revitalization of public space, but their maintenance and operation were the responsibility of several different city bureaus, according to a 1979 ordinance. Natural aging and deferred maintenance had left the fountains and plazas in an advanced state of deterioration. Ultimately, the international significance of the landscapes prompted the city to seek donations to raise the necessary funds, and to collaborate with the Halprin Landscape Conservancy to undertake the repairs. The conservancy was born in 2001 when Portland real-estate developer John Russell began investigating refurbishing the park sequence. The non-profit has continued to work with the city and stakeholders to safeguard Halprin's local legacy while simultaneously increasing public awareness of his work.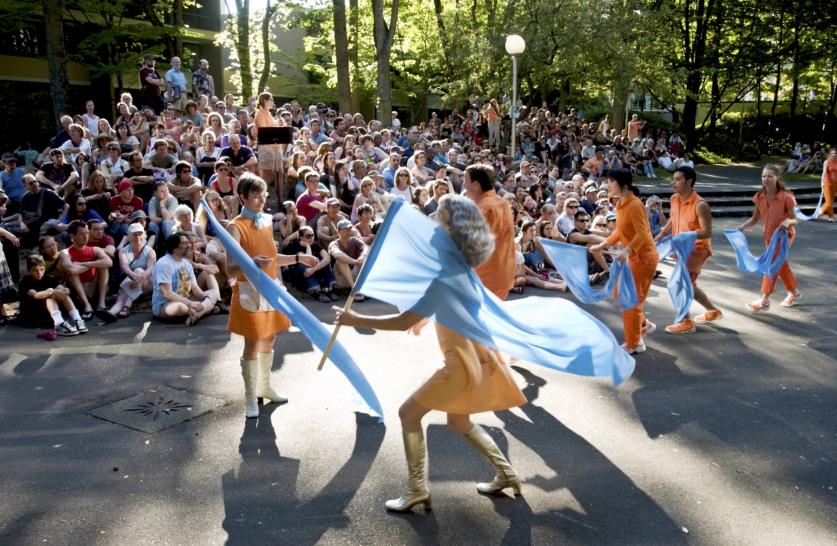 The Conservancy, the first in the United States to be dedicated to preserving and interpreting a collection of Modernist landscapes, has both renewed Halprin's legacy and made a powerful impact on Portlanders since its founding in 2006. An initiative such as this is just one of the reasons we honored the Conservancy with a 2017 Stewardship Excellence Award. 
         
            -Charles A. Birnbaum, president and CEO of The Cultural Landscape Foundation
Considered to be one of the pioneers of Modernist landscape architecture, Halprin became known for creating strong, expressive forms that evoked the structures and processes of nature, often with terracing enlivened by flowing water. When the Ira Keller Fountain opened in 1970, New York Times architecture critic Ada Louise Huxtable called it "one of the most important urban spaces since the Renaissance." In March 2013 the Open Space Sequence was listed in the National Register of Historic Places. In 2016 it was one of several projects featured in The Landscape Architecture of Lawrence Halprin, a traveling photographic exhibition that has toured the nation as a key component in TCLF's annual Landslide nitiative.