After 15 Years, Day One

After 15 Years, Day One
After 15 Years, Day One

TCLF's new office space, with custom-built desks.
On Friday, August 23, TCLF moved into newly renovated offices on the second floor of the Wonder Building, a two-story, flatiron-shaped Deco-style building built in the 1920s on Connecticut Avenue, NW, in Washington, DC.  The building is two blocks north of Dupont Circle, adjacent to historic Embassy Row, a few blocks from the Phillips Collection, with floor-to-ceiling windows that face out onto Connecticut Avenue (where we see our fair share of motorcades and good sunsets).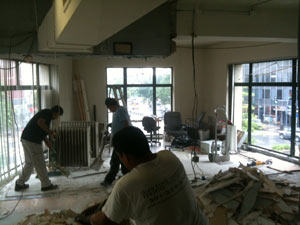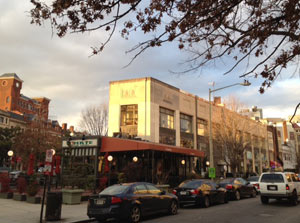 (upper) the office under construction; (lower) new TCLF office space,
above La Tomate.A four month top-to-bottom renovation included removing the existing walls to create a largely, airy open floor plan, installation of custom carpentry desks that run the length of the entire main room, sanding and polishing of the original hardwood floors and the creation of much needed storage space.  A custom designed banner with TCLF's logo and domain name will soon be installed on windows facing the most heavily trafficked section of the neighborhood.  The Knoll-designed chairs acquired for the office were created for the 1970 Brutalist style Third Church of Christ, Scientist (located two blocks north of the White House), which, sadly, will soon be torn down.  The overall look and feel is one of a design studio.
"We have been very patiently looking for office space for sometime.  We felt it was important to find a space in which we could create a destination that reflected TCLF's interest in design and our nation's collective design legacy," said TCLF founder and president Charles A. Birnbaum. The foundation had been housed in the English basement of a Dupont Circle row house and had outgrown the space. TCLF's neighbors at The Wonder Building's include several architectural firms (one of which designed the foundation's new offices), a PR firm and an art dealer, and on the first floor a restaurant. "With this new space, we have gone from 7-½ to 14 work stations and we'll now be able to welcome guests and friends, and accommodate some of the volunteers, interns and others with whom we'd like to work, but for whom we didn't have space."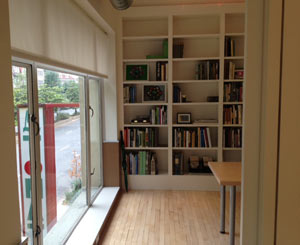 After 15 years, room for books and more."The foundation's new headquarters reflect the organization's growth in scale and impact, and represents a fitting inauguration of our new round of strategic planning," said foundation Co-Chairs Barbara Dixon and Suzanne Turner.
"TCLF has been extremely fortunate since its founding 15 years ago to have tremendous support from friends, Board Members and many others," said Birnbaum.  "This new chapter and this new day one were made possible by founding Board Member Jo Ann Nathan and her husband Stuart.  Their gift, an incredible investment in TCLF's future, leaves us all proud, grateful and humble."