"The Cultural Landscape Foundation's Brilliant Idea" - Portland Monthly

"The Cultural Landscape Foundation's Brilliant Idea" - Portland Monthly
"The Cultural Landscape Foundation's Brilliant Idea" - Portland Monthly


Larry Weaner leads the group through the meadow at Twin Maples Farm in Connecticut.
The inaugural Garden Dialogues – 32 events held around the country in April, June and July – attracted more than 700 attendees and rave reviews. The premise is simple: Visit gardens and hear from the landscape architects and patrons about how their respective collaborations resulted in each garden's creation.
Hoosier Gardener Jo Ellen Myers Sharp clearly articulated the Garden Dialogues thesis: "Let's talk about how landscape architects, homeowners come up with a plan." Kate Bryant at Oregon's Portland Monthly called Garden Dialogues a "brilliant idea." Attendees in Atlanta, Miami, Indianapolis, Los Angeles and elsewhere dubbed it "amazing," "fascinating" and "impressive." Now we're planning for Garden Dialogues 2013 and we want your input.
But first a quick recap of 2012.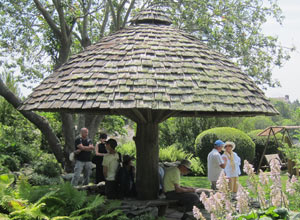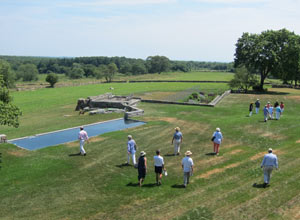 (upper) Mrs. Hamilton and guests under the umbrella at
Wildacre in Newport; (lower) the group explores Manatuck
Farm in Connecticut.The idea for the program began last summer when TCLF founder and president Charles Birnbaum visited Manatuck Farm in Stonington, CT. On a walking tour of the property, just 2 miles from the ocean and prosecco in hand, Birnbaum was riveted listening to owners Barbara and Chris Dixon and landscape architect Doug Reed discuss the multi-year design and management process for the 200-acre cultural landscape. The inside details of the ongoing collaboration were fascinating and Charles thought a series of such dialogues would be another effective way of revealing landscape architecture's creative process – with an emphasis on how practitioners and patrons work together.
The inaugural dialogue locations ranged from intimate residential properties to farms and vineyards, and attendees were greeted with striking landscapes, great stories and abundant hospitality. In Miami, participants visiting the 1100 Block of Lincoln Road with landscape architect Raymond Jungles and patron Robert Wennett were unexpectedly taken to see the private residential work Jungles did for Wennett's home atop a striking parking garage designed by Herzog & deMeuron. To accompany a dialogue at an Italian-inspired garden in New Canaan, Connecticut dialogue, landscape architect Janice Parker created a beautifully illustrated color garden guide with before-and-after photos of the garden, a complete plant list and recipes for Kale Salad and Fresh Garden Salsa (examples of which were served to attendees). Several others had wine, cheese and hors d'oeuvres to accompany ample sunshine, beautiful views and rich conversation.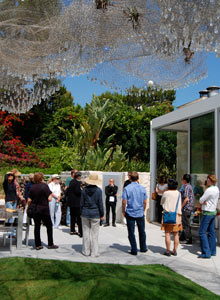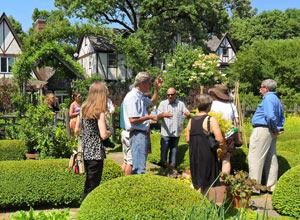 (upper) under the Cloud with Andy Cao in Malibu;
(lower) Frank Mariani in his boxwood and vegetable
garden at Old Mill Farm in Lake Forest, IL.In the final analysis, as this representative sampling of feedback reveals, it was insights into the creative and collaborative process that proved the big draw:
"Having the owner with the client was great and critical."
"I really liked the instructional aspect as opposed to just wandering through someone's lovely garden."
"The people who were drawn to the event were equally interesting."
If you attended one or more of the Garden Dialogues, we'd like to hear about your experience. We would also like your suggestions for future Garden Dialogue destinations.
Finally, many thanks to our Garden Dialogues sponsor Seibert & Rice, and to all of the designers who participated (complete list in alphabetical order): Randy Allworth, Richard Arentz, Craig Bergmann, Gregg Bleam, Paul Broadhurst, Pamela Burton, Andy Cao, Patrick Chassé, Peter Conard, Edward Daugherty, Olvia Demetriou, Mary Ellen Flanagan, Karen Ford, Lisa Gimmy, Michael Graf, John Greenlee, Richard Hartlage, Barth Hendrickson, Doug Hoerr, Ed Hollander, John Howard, James M. Johnson, Kerry Joyce, Raymond Jungles, Chris LaGuardia, Keith LeBlanc, Frank Mariani, Carol Mayer-Reed & Theresa Chenney, Jason Morse, David Neff, Mario Nievera, Martin Poirier, Ben Page, Pamela Palmer, Janice Parker, Doug Reed, Cristian SabellaRosa, Keith Summerour, Maryann Thompson, Susan van Atta, Larry Weaner, Richard Williams, and Thomas Woltz & Alexis Woods.