In Remembrance of TCLF Friend and Supporter Eric Reid Fulford

In Remembrance of TCLF Friend and Supporter Eric Reid Fulford
In Remembrance of TCLF Friend and Supporter Eric Reid Fulford


Eric Fulford, courtesy Ann Reed
Sometimes it takes being born in Atlanta, Georgia and then raised in the Pacific Northwest to make good Midwest stock. That was the case with Eric Reid Fulford, ASLA, FAAR, an incredibly talented Indianapolis-based landscape architect and artist who passed away on September 12, 2012.
He was a friend and colleague, warm, inquisitive, adventurous and incredibly generous with his time and knowledge. Eric, had planned to speak at one of the Garden Dialogues TCLF organized, then called some months later to say he was gravely ill and had to decline. I was very saddened, especially for him and his wife and co-conspirator in life Ann Reed, and son Ian.
Eric was born in 1951 and raised in the Pacific Northwest, in Portland, Oregon. Even at an early age he was always drawing, following the lead of his graphic designer father; battling pirate ships was one of his favorite childhood subjects. He studied geology as an undergraduate at Oregon State University, then earned an M.L.A. from the University of Illinois in 1978. He also earned diplomas in Urban Design and Countryside Planning from the University of Edinburgh, Scotland. Eric Reid Fulford lived and worked as a landscape architect and artist in Indianapolis, Indiana and the Midwest for more than 30 years.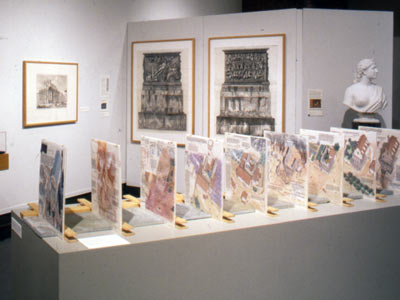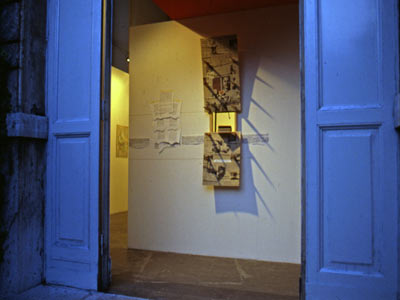 (upper) Furnaces of Rome; (lower) Garden Gate AltarIn 1991, Eric was awarded a Rome Prize in Landscape Architecture and in 1992 began a yearlong fellowship at the American Academy in Rome. For Eric, Ann and son Ian (then 11 years old), it was a great adventure and a period of great creativity. He created numerous drawings and two gallery installations: the Furnaces of Rome a multi-drawing conceptual exploration in ink and colored pencil of 1850-year history of the Chiesa di San Lorenzo; and Garden Gate Altar. Upon his return to the United States he continued this vein of creative work with Gardens Interrupted and Intended Landscapes. Fulford's Web site contains an ebullient description of this wide-ranging body of work: "They (the projects) highlight previously unexplored notions, part-sculpture, part-drawing, part-artifact that sought to inspire and/or provoke unsought insights in others. In each case the question occurs, where does the landscape fit into cultural traditions, both past and present, and how did these perceptions influence succeeding generations as evidenced in the public places that surround us? This body of work, whose creative process is marked by curiosity, collaboration, and research, tells stories of actual landscapes neglected, abandoned and demolished."
Eric's poetic final presentation to the AAR Board is a mixture of joy, melancholy, humility and grace: "With these words comes the recognition that I will no longer be in Rome. It will be a little like losing a part of myself, but it also will be about finding myself with a new voice, a new expression, astounded by the beauty witnessed. In the end, I imagine it will not only be the monuments to man or church, or the grand piazzas, or the marble or bronze statues that will endure, but also the richness of the earth that has sustained such vanities for so long, still producing in its fertile fields and hillsides, grapes, olives, fruits and vegetables in a purposeful beauty that enthralls."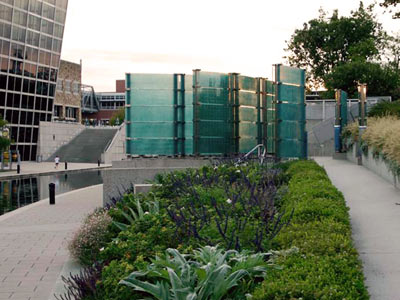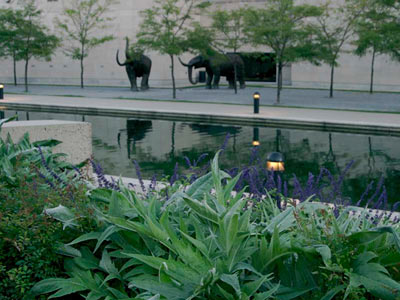 Congressional Medal of Honor Memorial, White River State Park, Indianapolis, INBack in Indianapolis, Fulford established NINebark, Inc., a creative design studio he opened in partnership with Ann in 1995. NINebark's built work in the Midwest has focused on culturally-rich and thoughtful public space, including: the Indiana Veteran's Cemetery in Madison, Indiana;  the proposed restoration of the Taggart Memorial in Riverside Park; the Ruins at Holliday Park; and the Congressional Medal of Honor Memorial in White River State Park in Indianapolis. Soon after the Memorial's completion, in recognition that gardens are by definition ever evolving, Eric recommended that Chris Turner, of UTOPOS Gardens, be retained by the Memorial Foundation on an on-going basis as the Memorial's gardener. The partnership has continued for more than eight years and has seen the evolution of the original landscape into the rich, vivid, and diverse garden that it is today. One of NINebark, Inc.'s final projects, and one that was very close to Eric's heart, is the SKY FARM for Wishard Hospital in Indianapolis, a 30,000-square-foot green roof incorporating an organic garden that will help supply the hospital's café.
For 17 years, NINebark, Inc.'s practice has blended built landscape architecture projects with thoughtful writing, graphic design, and a broad range of creative endeavors that go as far as chocolate-making. Eric and Ann have been active and enthusiastic supporters of The Cultural Landscape Foundation for many years, contributing to the Silent Auction some of our most humorous and enjoyable work. For the 2012 Auction, held at the ASLA Annual Meeting in Phoenix in October, they offered up a series of letterpress posters created by Indianapolis-based artist Carl Pope, which garnered much attention and many bids. One poster's content was particularly poignant; "Tragedy Over Time Equals Comedy" is a phrase Eric seemed to hand-pick for us this year.
Thank you, Eric, for your friendship, good humor and original mind – We will miss you terribly.