What's Out There Partners

What's Out There Partners
What's Out There Partners

Shirley Plantation in Charles City, Virginia, photo by Jennifer Livingston
TCLF's What's Out There (WOT) program continues to grow and expand – the database now exceeds 1,500 entries, plans for What's Out There Weekends are being solidified for 2014 and 2015, and more and more people are accessing all of this information on their iPhones and similar devices. Creating this body of material is possible because we work with great academic, professional, and non-profit collaborators.
These partners have been critical to the expansion of What's Out There, now including related conferences and seminars, publications, free tours and many other ancillary activities since the program was founded more than four years ago. Here's a rundown of the different partners who are helping to make the program a success.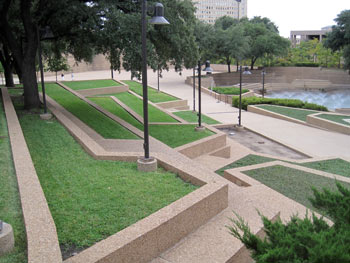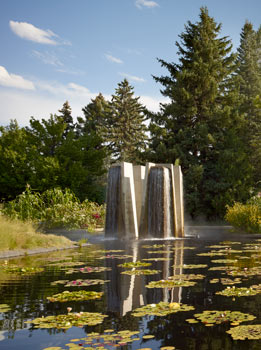 (upper) Fort Worth Water Garden, photo by Charles Birnbaum;
(lower) Denver Botanic Garden, photo by Brian K. Thomson.Professional Design Studios
Local firms assist by providing work space and mentorship for students (usually during the summer), offering financial sponsorship, and supporting production and printing costs related to What's Out There Weekends and state-wide initiatives. When students are involved the partnerships benefit both groups – students have the opportunity to experience a professional office environment and the firms interact with and mentor promising potential employees.
Thanks to the SWA Group, this summer there will be a full-time, paid SWA Group Cultural Landscape Fellow operating from the firm's offices in Dallas and Houston, who will research, write up and photograph several dozen Texas sites. The application has been posted with a deadline for submission of April 15th. This is part of a larger initiative to add approximately 200 Texas sites to the WOT database. The SWA Group Cultural Landscape Fellowship also includes housing.
We've also received a generous commitment from Design Workshop, which will host one or two interns at their Denver office in 2014, creating WOT Denver-based content as part of a larger effort starting this spring with landscape architecture students at University of Colorado Denver (see below). The office setup includes workspace, mentoring and support for one or two students. Conveniently, the firm's offices are located across the street from the campus.
Universities
Landscape architecture and historic preservation programs at universities throughout the country are essential for conducting thoughtful research and developing rich WOT content. University engagement can range from content creation as part of landscape or preservation course curriculum – as seen at Cal Poly San Luis Obispo, Columbia University, Louisiana State University, and University of Washington – or can be more formally structured for broader city or state-wide initiatives.
Last year as part of a state-specific effort to add more than 100 Virginia sites to WOT, landscape architecture faculty and selected students at University of Virginia and Virginia Tech began collaborating with TCLF staff to create database content. The program, supported by a National Endowment for the Arts Art Works grant, runs through 2015 and will include What's Out There Weekend Richmond this October.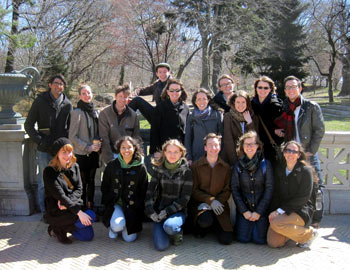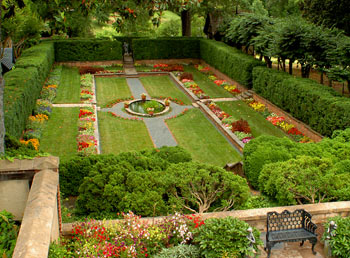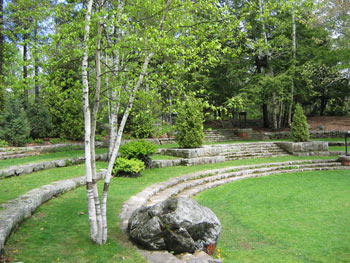 (upper) Historic Preservation students from Columbia University, photo by Charles
Birnbaum; (middle) Agecroft Hall in Richmond, VA, photo courtesy Agecroft Hall;
(lower) Camden Amphitheatre in Camden, ME, photo by Charles Birnbaum.Meanwhile, in Texas all four of the state's landscape architecture programs – UT Austin and Arlington, Texas A&M, and Texas Tech – along with historic preservation and architecture faculty at these and other schools, will help produce Texas-focused entries. This will complement work done by the SWA Group Cultural Landscape Fellow.
We are also partnering with the landscape architecture program at University of Colorado Denver to document at least 50 significant regional landscapes. A team of students are identifying sites and researching and writing content this spring, with work continuing through Design Workshop's internship this summer and posting of the information in early fall.
TCLF's Sally Boasberg Founder's Fellowship also connects with university programs across the country. The Fellowship, created in spring of 2012 to honor founding board member Sally Boasberg, offers a full-time position plus housing for a current student or recent graduate. The Fellow spends the summer working with TCLF staff on a variety of programs, with What's Out There as a focus. Applications for the Boasberg Fellowship are due March 31st.
Non-Profit Partners
Local and regional organizations, including those focused on landscape, design and preservation issues, are also vital to this effort.These partners provide mentorship and photographic/archival resources to students, help identify sites, rally other local groups, and expand the audience for the What's Out There database.
Dallas-based bcWORKSHOP was the first partner to step up in support of our Texas-focused effort. Through their annual fellowship program they are providing a part-time position to support research, writing, and site photography in the area. The arrangement has been a great success, leading to strong faculty collaboration with University of Texas Arlington's landscape architecture program and a growing base of content for Dallas.
The first of TCLF's state-wide initiatives produced more than 150 Maine entries for the database. This was a very productive partnership with the Maine Historical Society, and like the Virginia initiative it received NEA support.
Coming up… the Preservation Society of Newport County is partnering with TCLF to produce What's Out There Weekend Newport in 2015.