TCLF Raises a Record-Smashing $320,000 in Philly
TCLF Raises a Record-Smashing $320,000 in Philly
TCLF Raises a Record-Smashing $320,000 in Philly
Each year's Annual Meeting and EXPO of the American Society of Landscape Architects (ASLA) provides important opportunities for TCLF to interact with members of the profession, vendors, and others to build a greater base of support for the foundation's initiatives—and to raise money for the foundation's programs.  The 2018 Annual Meeting in Philadelphia generated more than $320,000 from a daylong excursion to Longwood Gardens, a private reception honoring Harriet Pattison, and a silent auction – proceeds that will benefit the Pioneers Oral History program and many other initiatives offered freely to the public. It was the single-most successful revenue-generating Annual Meeting in TCLF's twenty-year history.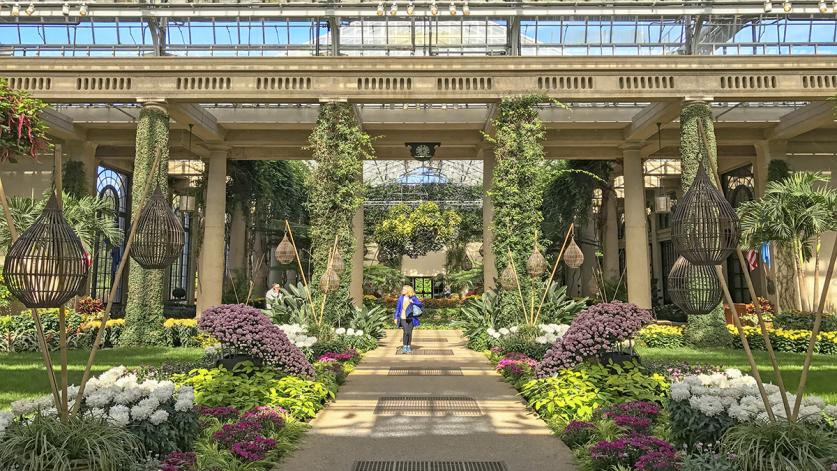 The aptly named Longwood Gardens: Experience a World Apart excursion was true to its title. More than 100 guests traveled by motor coach to Kennett Square, Pennsylvania, and were welcomed to Longwood Gardens in the Music Room by its president and CEO, Paul B. Redman, along with various Board Trustees and staff—and mimosas. Brief remarks were offered by select Longwood design consultants, including Adriaan Geuze of West 8, Jim Garland of Fluidity Design Consultants, Kim Wilkie of Kim Wilkie Landscape Architecture, Marion Weiss and Michael Manfredi of Weiss / Manfredi Architecture / Landscape / Urbanism, and Doug Reed of Reed Hilderbrand. They were joined by the site's earliest landscape-architecture consultant, Isabelle Greene, who designed Longwood's Silver Garden in 1987–1989.
Guests then strolled about the five-acre Conservatory (which was closed to the public for only the second time in Longwood's history) to linger and explore the various spaces, including the Waterlily Display with massive water-platters in brilliant hues of burgundy and green, Chrysanthemums in an variety of vivid colors and sizes, flowing fountains, a Palm House, the Orchid House, and a 300-foot-long Green Wall designed to resemble a lush green jungle. Ms. Greene and other experts were present at each of these locations to provide commentary and answer questions. The party then made its way outside for a spectacular twelve-minute performance at the Main Fountain Garden, with its spinning and dancing jets—and some spinning and dancing guests, too—set to the music of Edith Piaf, Judy Garland, and Celia Cruz.
An elaborate luncheon followed, served on the plaza beside the Historic Pump Room and Gallery. It included two "living stations," which referred to the fact that the salad was hand-trimmed from living plants immediately before arriving on guests' plates. After lunch, guests had the opportunity to explore the Pump House Tunnels and the outdoor gardens, which were equally spectacular—full of blooming plants, towering trees, flowing fountains, and even a handful of treehouses.
This extraordinary event was made possible with support from Longwood Gardens and Paul Redman, Longwood's President and CEO, along with ABC Stone, ANOVA, Bartlett Tree Experts, Iron Age Designs, Kelco Landscaping and Construction, Polycor, the American Society of Landscape Architects, and Maglin Site Furniture.  
Later that afternoon, a reception and surprise 90th-birthday party were held at the Architectural Archives of the University of Pennsylvania for landscape architect Harriet Pattison. The archives is currently hosting an exhibition of drawings by former TCLF Board Member and esteemed landscape architect Laurie Olin. The gallery reception area was augmented with a large-scale drawing of Four Freedoms Park in New York City, created by Louis I. Kahn and Pattison, who collaborated on the park's design. That image was also featured on a birthday cake presented to Pattison.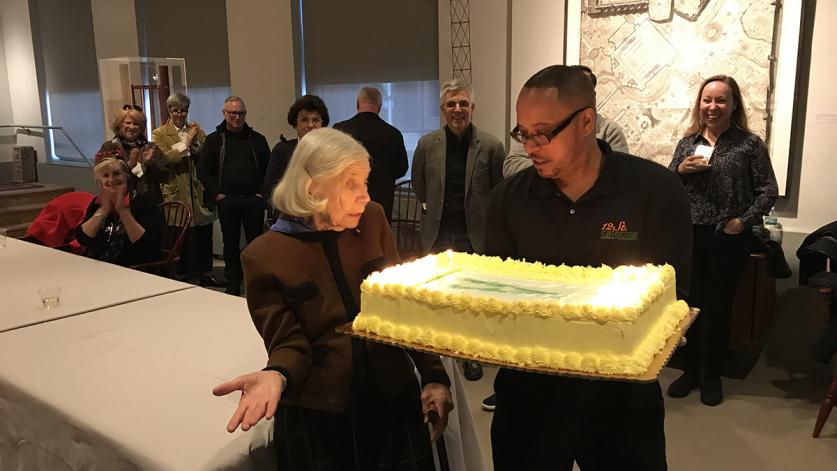 Another anticipated highlight of the Annual Meeting and EXPO was TCLF's Fourteenth Annual Silent Auction. More than 90 works of art by landscape architects, artists, architects, and others, including Roberto Burle Marx, Christo and Jeanne-Claude, Millicent Harvey, and Michael Kenna, drew fevered bidding. For the third year running, online bidding was facilitated by GiveSmart; and, indeed, there were advance bids amounting to more than $20,000 before the Annual Meeting even began. Bidders also had the option to purchase works outright using the "Buy It Now" function, which proved popular throughout the weekend.  Among the most sought-after items were two drawings by Lawrence Halprin of the Franklin Delano Roosevelt Memorial in Washington, D.C., which attracted attention from bidders in China and the United States. The duel to win these two precious pieces of landscape-architecture history continued into the final seconds of the auction. 
Laurie Olin generously donated three drawings to the auction, noting that because his records will soon be deposited with the Penn Archives, this would likely be the last time he would be able to donate his own work. That was enough for two bidders to exercise the "Buy It Now" option for two of the three works. The piece by Roberto Burle Marx also drew a great deal of attention until the very end of the auction. The event was made possible thanks to the American Society of Landscape Architects.
TCLF is grateful to the many generous individuals who donated works of art to the Silent Auction and to all of the bidders who participated. Works of art—including three Halprin drawings of the FDR Memorial—are already being secured for the 2019 Silent Auction in San Diego, California, during next year's ASLA Annual Meeting and EXPO. Those wishing to donate artwork, rare books, and other items are encouraged to contact auction manager Ayla Mangold: [email protected].