Inaugural Walks & Talks - a Resounding Success

Inaugural Walks & Talks - a Resounding Success
Inaugural Walks & Talks - a Resounding Success
On a beautiful Saturday morning in September a group of masked attendees met landscape architect Ken Smith at Duane Park, redesigned by Calvert Vaux in 1887 and touted as New York City's second oldest park (after Bowling Green), to discuss the rich design history that Smith encounters on his walk from his home in Tribeca to his office at Hudson Yards. This unique opportunity was TCLF's first Walks & Talks, a new initiative that invites participants to see the city through the eyes of award-winning landscape architects and practitioners in allied disciplines. Limited to 25 attendees, each Walk & Talk will be an intimate encounter with an unfolding urban landscape that includes such civic gestures as parks, plazas, and gardens, as well as unique vernacular expressions that are often overlooked.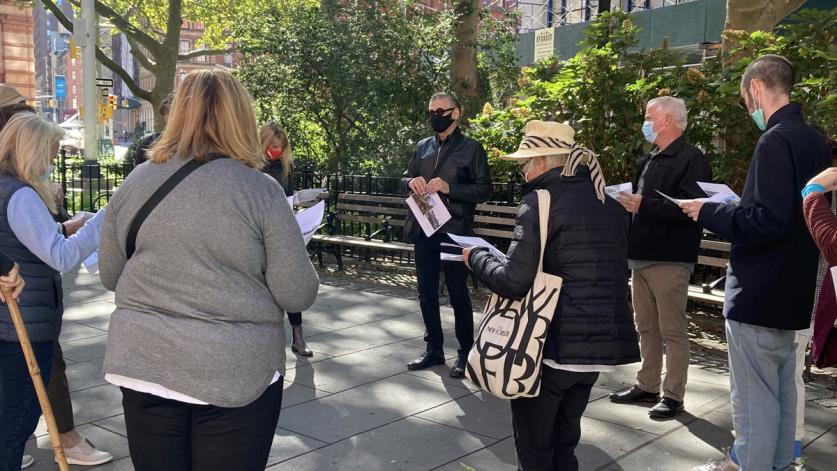 The group traveled north along Hudson Street, discussing points of interest along the away, including the Art Deco 60 Hudson Street, which was Western Union's headquarters from 1930 to 1973, designed by Ralph Walker of Voorhees, Gmelin and Walker.  The tour continued toward Hudson Yards through the West Village, by way of Greenwich Street. A highlight was Smith's insight into the changing landscape of the Meatpacking District, and in particular, the three new plazas (Gansevoort Plaza, The Chelsea Triangle, and the 14th Street Square) designed by Ken Smith Workshop in 2019 as part of the district's effort to reintroduce 20,000 square feet of historic Belgian block pavers to the streetscape, while creating new and inviting public space. Other stops on the tour included the American Express Carriage House, the Spring Street Salt Shed, and Hudson River Park. A brief coffee stop at one of Smith's favorite cafes in the Meatpacking District allowed registrants to take a rest while continuing the discussion. Learn more about all the sites visited here.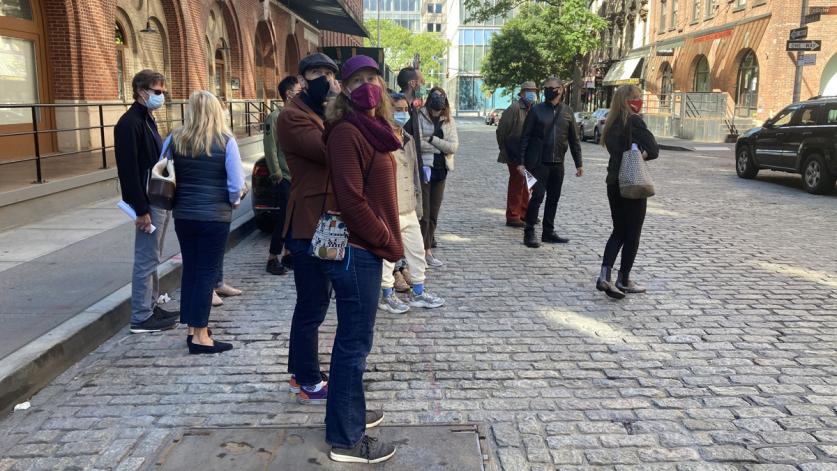 Attendees expressed their excitement to spend the morning outside with Smith learning from his extensive and personal knowledge of Lower Manhattan. As one attendee put it, "the inaugural TCLF Walks & Talks with Ken Smith was perfection from start to finish. The highly interested (and well-masked) participants introduced themselves ahead of a leisurely stroll along Ken's enviable route to his office, witnessing pocket gardens and urban plantings, and an array of easily overlooked historic and modern buildings, with occasional detours and a well-chosen stop for coffee." Program sponsor ABC Stone was in attendance and said "we are so honored to have sponsored TCLF's inaugural Walk & Talk event with the inimitable Ken Smith at the helm. The weather was perfect, the crowd was engaged, and Ken was as knowledgeable and passionate as we expected he'd be. Hands down, one of the best ways to get an insider's peek at the neighborhoods and landmarks we know and love."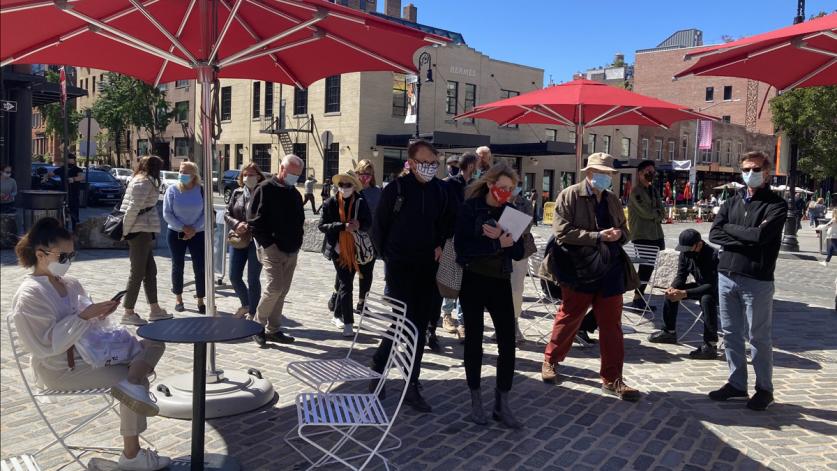 TCLF is working to add additional Walks & Talks to the spring 2021 events calendar. Please check our Newsletter and website for upcoming events.  Each Walk & Talk will be a unique site-specific journey, and those who experience one may never see the city in quite the same way again. Groups will deliberately be kept small, so registration is required, with fees paid in advance. LA CES™ professional development hours may be available to attendees.
A special thank you goes out to the program's sponsors, ABC Stone, Bartlett Trees, Vermont Quarries, and Victor Stanley, and Educational Partner American Society of Landscape Architects.