Japanese-American Landscape Architects Leave Lasting Impacts

Japanese-American Landscape Architects Leave Lasting Impacts
Japanese-American Landscape Architects Leave Lasting Impacts
Editor's note: All of the photographs in this feature were taken by Dorothea Lange, who was hired by the the War Relocation Authority in 1942 to document the relocation of Japanese-Americans. Upon review of her images, military authorities impounded her photographs for the duration of the war. 
It's been almost 75 years since an executive order by Franklin Delano Roosevelt resulted in the internment of more than 100,000 persons of Japanese descent during World War II, a majority of whom were American citizens. Internment affected every profession, from the fine arts to military personnel, and landscape architecture was no exception. San Diego-based Joseph Yamada recounted the year and a half he spent in Poston Internment Center in Arizona for TCLF's Pioneers Oral History series in 2013. He took the opportunity to discuss an early encounter with landscape in the camp:
…they all had beautiful waterfalls, beautiful bonsai. I mean, when you walked from block to block, that in itself was exciting to see. What are they doing on block 323? Look at the shelter they did on 326. They built wonderful shelters.
Yamada goes on to describe how the community constructed their own circulation system:
We designed our own walks between the units because it was so muddy, there was no concrete, no walkways. All the spare pieces of wood from building the barracks, was put in this huge pile. And the guys would go there and they'd build or find these slats. They had to be about three feet wide so that you could build your section from my door to his door…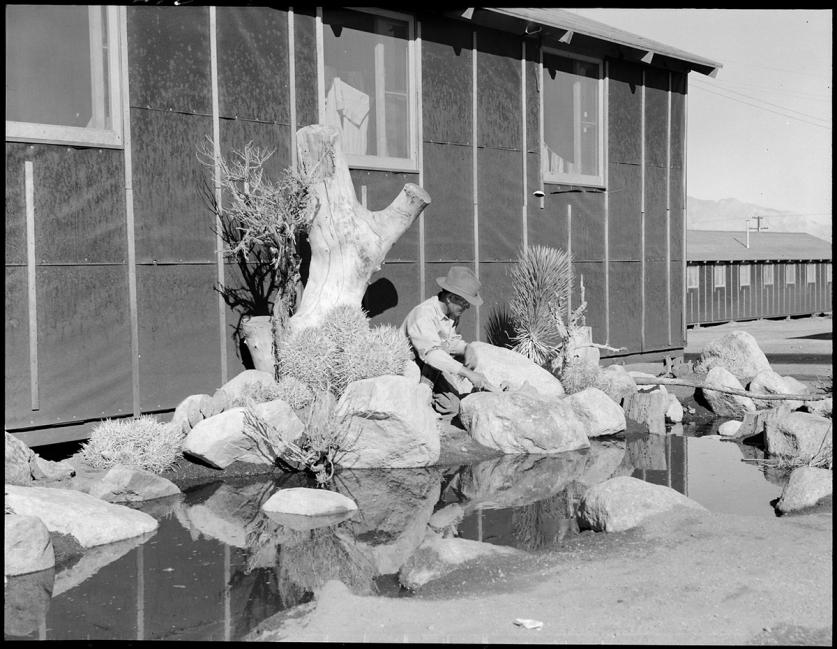 In preparation for the publication of TCLF's forthcoming volume on pioneering landscape architects in the post-war era, it became apparent that eight practitioners were associated with Japanese-American internment. Each of their experiences was manifested in some way in their careers. What follows are excerpts from the biographical essays of four practitioners: Shinji Nakagawa, who was born in Japan but interned in Manzanar Relocation Center in California after his family immigrated to the U.S.; Mai Arbegast, who was interned at Heart Mountain Relocation Center in Wyoming; Satoru Nishita, whose family was sent to Poston Internment Center in Arizona, where he graduated from Poston High School; and Isamu Noguchi, who volunteered to work (and live) on an internment camp in Arizona.
Other landscape architects in our database who are associated with internment include: Asa Hanamoto, Masao Kinoshita, Kenichi Nakano, Hideo Sasaki, Robert Murase, and Frank Okamura. Most of persons mentioned here were based on the west coast, but their designs held wide-reaching influence, from Babi Yar Park (a WWII memorial) in Denver, to the gates of the Los Angeles Memorial Coliseum constructed for the 1984 Summer Olympics. 
Born in Hiroshima, Japan, Nakagawa was raised in Southern California. In 1942 his family was interned at the Manzanar Relocation Center and later Tule Lake Internment Camp. After World War II, the family returned to their home in west Los Angeles. Nakagawa enlisted in the U.S. Marine Corps in 1958, and remained in the reserves until 1965. His brother-in-law, Ken Nakamaki, introduced him to the practice of landscape architecture, and Nakagawa completed his B.S.L.A. at California State Polytechnic University, Pomona in 1967.
In 1966 Nakagawa joined the firm Courtland Paul/Arthur Beggs and Associates, based in Southern California, where he would remain for the next twenty-seven years. By 1974, he was among a group of partners that formed the Peridian Group, Inc. Peridian was awarded the contract for several sports venues, including the entryway to the Los Angeles Memorial Coliseum (1984). In 1985, Nakagawa became President and CEO of Peridian International. He moved to Singapore to start Peridian Asia in 1993, where he served as executive director until 1995. During this time the firm provided master-planning services such as the Kuching City Extension master plan (mid 1990s) in the Province of Sarawak, Malaysia. Nakagawa returned to the U.S. in 1998, and re-focused his practice on industrial and commercial building sites in and around Los Angeles.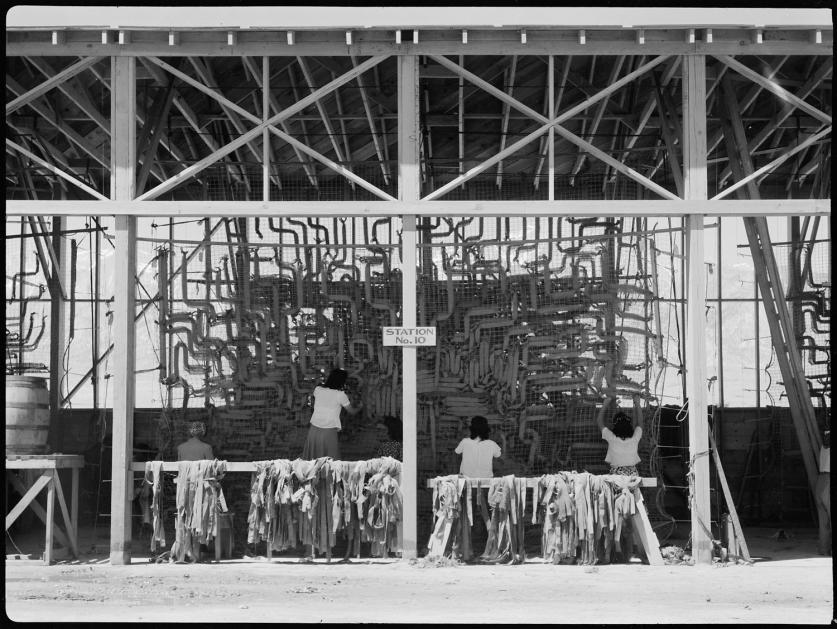 Nakagawa received awards from the American Institute of Architects, the American Institute of Landscape Architects (which merged with the American Society of Landscape Architects in 1982), and the Los Angeles Olympic Organizing Committee.
Born Mai Kitazawa, Arbegast was raised in San Jose, California, where her family operated the Kitazawa Seed Company. During World War II, her family was sent with to an internment camp at Heart Mountain, Wyoming. While living in the camp Arbegast applied and was admitted to Oberlin College. After securing a sponsor, she and her family were allowed to leave the camp in order for her to attend college, from which she graduated in 1945 with a B.A. in botany and ecology. In 1947 she received a master's degree in floriculture and plant breeding from Cornell University, and her M.L.A. in 1953 from the University of California, Berkeley, where she would teach until 1966.
In the mid-1960s Arbegast began private practice, designing residential and commercial gardens and developing management and maintenance guidelines for plantings in zoos, arboreta, botanic gardens, and cemeteries around San Francisco. She was also a horticultural consultant for many firms and landscape architects, including EDAW, SWA Group, Douglas Baylis, Peter Walker, and (on myriad projects) Lawrence Halprin. In the 1980s and 1990s, Arbegast designed many estate gardens, including one for Steve Jobs, the founder of Apple. She worked over the course of many years in expanding the gardens at Filoli, a 654-acre estate in Woodside, California, and was instrumental in its donation to the National Trust for Historic Preservation. Arbegast was an active member of many professional organizations, and taught for several years at the Berkeley, Davis, and Los Angeles campuses of the University of California, and at Cornell University, Radcliffe College, and the University of Massachusetts. She suffered a massive stroke in 2004, and passed away eight years later.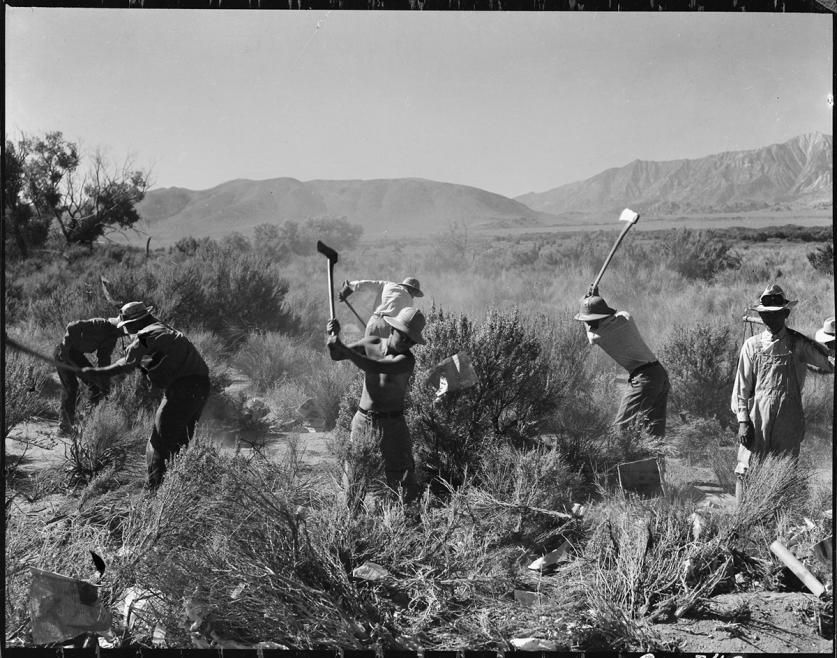 Raised in California, Nishita was relocated to a Japanese internment camp in Arizona during World War II. He enlisted in the military after his release, serving at Camp Beale. Discharged in 1947, he studied landscape architecture at University of California Berkeley. There he was influenced by the teachings of Leland Vaughn and Robert Burton Litton, Jr., who helped nurture his zeal for drawing and encouraged Nishita's growing concern for the environment.
As a student, Nishita worked for Ariaki Inouye and the firm Eckbo, Royston & Williams. Graduating in 1951, he joined Lawrence Halprin & Associates, alongside classmates Jean Walton, Don Carter and Richard Vignolo. He spent summer vacations in the Sierra Nevada, further developing his talent for sketching, a skill that helped him formulate and refine his designs. In 1984, a number of his sketches were published in Visual Notes for Architects and Designers.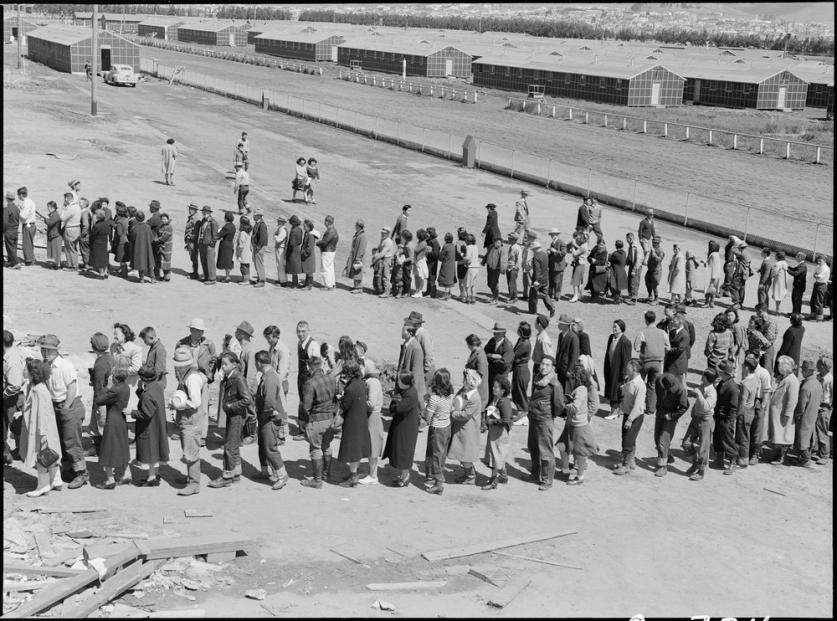 Nishita became a principal in Halprin's firm in 1964. His projects as lead landscape architect included: Nicolett Mall, Minneapolis; Portland Open Space Sequence; Skyline Park, Denver; and University of California Davis. He was lead designer for Riverbank Park in Flint, MI, a project which was completed by CHNMB Associates, the firm created by Nishita, Don Carter, William Hull and Byron McCulley after the closure of Halprin's office in 1976. In 1985, Nishita and Carter formed Nishita & Carter, Inc. Nishita retired from practice in the 1990s due to health concerns, his career marked by his broad body of work and mentorship of a younger generation of practitioners.
Born in Los Angeles, California, Noguchi spent his youth in Japan before attending private boarding school in Indiana. He was studying medicine at Columbia University when he began sculpting. In 1927 Noguchi was awarded a John Simon Guggenheim Fellowship and soon thereafter moved to Paris to apprentice with the Modernist sculptor Constantin Brancusi. He traveled and lived in Europe, Asia, and Mexico during the 1930s before returning to New York. His first significant U.S. commission, in 1938, was for a large public sculpture at the Associated Press building at Rockefeller Center. During World War II, he volunteered to work in a Japanese internment camp for several months, primarily to get to know his fellow Japanese-Americans. With his Japanese Garden for the UNESCO headquarters in Paris in 1956, Noguchi made a name for himself designing plazas, playgrounds, and gardens. All of his designs featured large-scale sculpture. Between 1960 and 1966, he worked with architect Louis Kahn on a playground design for New York City's Riverside Park that was never realized, and implemented Playscapes in Atlanta, Georgia's, Piedmont Park in 1976. In the 1980s, Noguchi redesigned Bayfront Park, a Beaux-Arts urban park in Miami, Florida, and he opened his studio as the Isamu Noguchi Garden Museum in Queens, New York, in 1985. In 1986, the Lillie and Hugh Roy Cullen Sculpture Garden opened in Houston, the first sculpture garden created by Noguchi in the United States to house the work of other artists.
Also known for his set design and furniture design, Noguchi was also for his distinguished career in the arts. He represented the United States at the Venice Biennale in 1986, received the Edward MacDowell Medal in 1982, and the National Medal of Arts in 1987.