Significant Milestones Achieved in 2012

Significant Milestones Achieved in 2012
Significant Milestones Achieved in 2012
Thanks to your past and continued support, in 2012 The Cultural Landscape Foundation (TCLF) achieved significant milestones that provide greater visibility for landscapes, landscape architecture and its practitioners.
Existing programs, including What's Out There and the Pioneers Oral History series, daily grow richer and deeper; innovative programs such as Garden Dialogues offer fresh, new insights; our educational and advocacy efforts offer creative solutions and build bridges with other organizations and supporters; and we have experienced exceptional audience growth accompanied by unprecedented media coverage. TCLF is especially fortunate for the generous support of our 2012 Season of Events presenting sponsors Charles Luck Stone Center and The Davey Tree Expert Company – and proud to report the following highlights:

What's Out There (WOT)
The free and searchable Web feature detailing parks, gardens, and other designed landscapes and their designers grew markedly and now houses more than 1,300 entries and 9,000 supporting images. This unique database recently received the prestigious American Society of Landscape Architects (ASLA) Honor Award in Communications. This year, in partnership with the Maine Historical Society and with support from the National Endowment for the Arts, we added more than 150 Maine sites, making Maine the first state with comprehensive WOT coverage. Plans are proceeding for a handheld device version, which includes the new "What's Nearby?" feature showing nearby WOT sites. What's Out There Weekends, now in their third year, were held in Washington, DC and New York City. After the DC events rapidly sold out, we doubled the number of tours, only to sell out those as well. The NYC tours proved equally successful. Thanks to the support of national sponsors the Bartlett Tree Experts and Le Pain Quotidien and more than two dozen other corporate and private sponsors, the two weekend tours attracted thousands. Looking ahead to 2013, WOT Weekends are being planned for Philadelphia, the Berkshires and Los Angeles.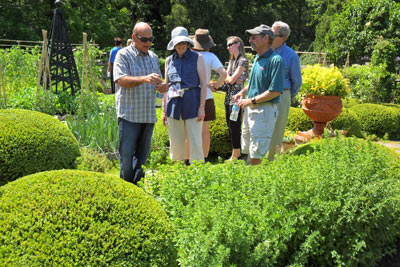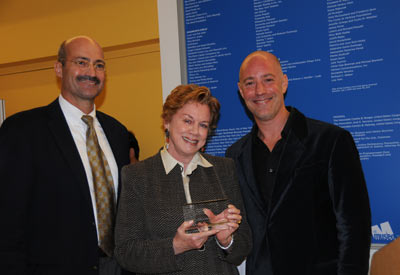 (upper) Garden Dialogues, June 2012, Old Mill Farm, Lake Forest, IL;
(lower) l to r, Doug Blonsky, President/CEO, Central Park Conservancy;
Judith Carson, recipient of the 2012 Stewardship Award; and Charles
of TCLF, at the Stewardship of Central Park's Woodlands Conference
reception and launch party.
Garden Dialogues
A new initiative where participants hear the garden owner and designer discuss their creative collaboration, providing first person insights into that working relationship. Thirty-three of these leisurely, private garden visits were held in April, June & July, with most selling out well in advance – they garnered generous media coverage and exceptionally positive reviews, with many people attending multiple events. We are grateful for the support of Seibert & Rice in 2012; we are solidifying plans for a nationwide program of Garden Dialogues in 2013.
Symposiums and Conferences
Symposiums and Conferences remain vital to advancing TCLF's mission of "stewardship through education." This year, in association with the Central Park Conservancy, we organized Bridging the Nature-Culture Divide II: Stewardship of the Central Park's Woodlands, which brought together landscape architects, horticulturalists and environmental scientists from around the country to discuss how to balance design intent with the park's constituent demands. For example, should overgrowth be cleared to restore a historically designed Olmsted & Vaux view if it affects animal habitat? This has been a hot button issue for decades and the October conference brought stakeholders together for an animated and thoughtful discussion.
Pioneers Oral History
This past year we completed the oral history of Israeli landscape architect Shlomo Aronson, one of the most important shapers of the modern state of Israel. The project was shot on location throughout the country. We also completed videography for Laurie Olin's oral history, shooting on location in New York, Philadelphia and Washington, DC.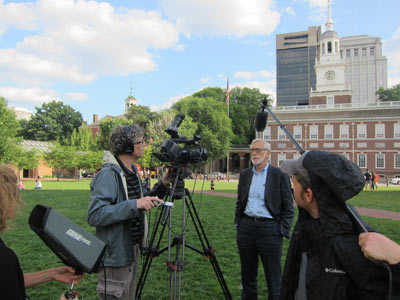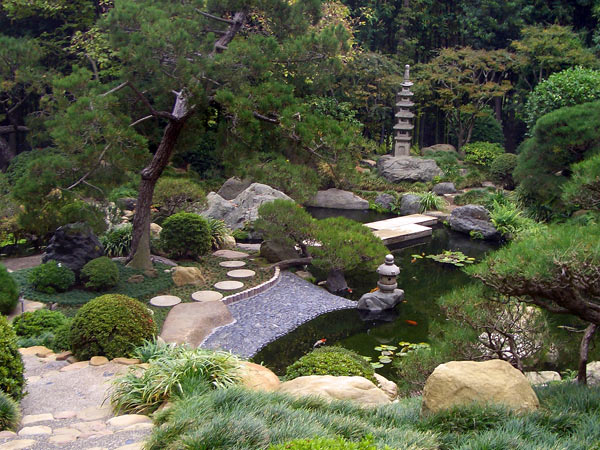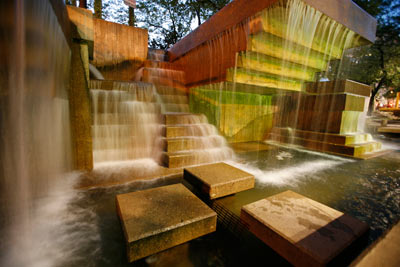 (upper) Videotaping takes place for the Laurie Olin Oral History at
Independence Hall in Philadelphia, PA; (middle) 2012 Landslide site,
Hannah Carter Japanese Garden, Los Angeles, CA. Image courtesy
Bettie Bearden Pardee; (lower) Peavey Plaza, Minneapolis, MN. Photo
copyright 2008 Keri Pickett.
Landslide
Landslide, our annual thematic compendium of threatened and at-risk landscapes, continues to be one of our most high profile and effective projects. This year's theme, Landscape and Patronage, focused attention on significant landscapes and those individuals or organizations that helped create them. Landslide 2012, which was again supported by The Davey Tree Expert Company, received unprecedented levels of national coverage through the Associated Press and CBS Radio, along with NPR affiliates in Washington, DC and Los Angeles – the biggest Landslide media launch to date. The Landslide 2010: Every Tree Tells a Story photographic and outdoor signboard exhibitions continue to travel. The photography show was exhibited at the Arts Council of Moore County in Southern Pines, NC, and Cheekwood Botanical Gardens and Museum of Art in Nashville, TN. Thousands viewed the signboard exhibit while on extended loan to the National Arboretum in Washington, DC. Future exhibition venues are currently being finalized.
Advocacy and Awareness
TCLF focuses on problem solving, building bridges between adversaries, and putting forward ideas and plans that guide change while insuring continuity. For example, a new public-private partnership to manage the Jay Estate in Rye, NY was influenced in part by TCLF's educational initiatives. We are pleased to report that four former Landslide sites – all Modernist landscapes – were advanced for listing on the National Register of Historic Places: the Portland Chain of Open Spaces, Portland, OR (Lawrence Halprin); Gas Works Park in Seattle, WA (Richard Haag); Tucson Community Center, Tucson, AZ (Garrett Eckbo) and Minneapolis, MN's Peavey Plaza (M. Paul Friedberg). TCLF believes that rather than just saying "no" (a common perception of some advocacy work), we should offer alternatives, as we did recently regarding two important landscapes. First, in conjunction with M. Paul Friedberg, we put forward design concepts for Peavey Plaza that thoughtfully and articulately refuted the City's claim that there is no reasonable alternative to Peavey's demolition. The final decision on its future is pending. Second, TCLF succeeded in preventing the demolition of Green Acres, a NJ state-owned, site-specific sculptural installation by Athena Tacha in Trenton. In partnership with many local partners, we mounted a strategic media campaign proposing a cultural district with Green Acres as the fulcrum. The coverage led Gov. Christie to overturn the demolition decision. Our Web site (www.tclf.org), which surged past 6 million hits with more than 600,000 unique visitors last year continues to grow, owing to our conferences, monthly Huffington Post blog features, e-newsletters, and constant Facebook, Twitter, and YouTube postings.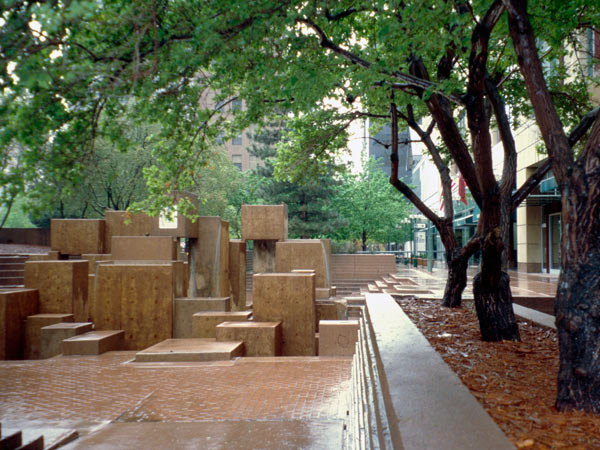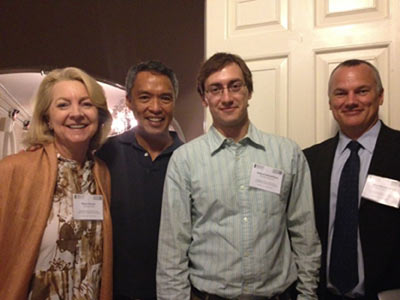 (upper) Skyline Park, Denver, CO, 2001; (lower) l to r, TCLF Board
Members Shaun Duncan and Mario Nievera with 2012 Sally
Boasberg Fellow, Eduard Krakhmalnikov and TCLF Director of
Communications, Nord Wennerstrom.
Publications
In an effort to advance the idea of managing change, TCLF launched a new series with Princeton Architectural Press called Modern Landscapes: Transition and Transformation that focuses on mid-century works that have undergone marked transformation. We explore the critical question: how do we measure success? The volume on Lawrence Halprin's Skyline Park has been published and will be followed by Mellon Square in Pittsburgh and the Charlottesville Mall in Virginia.
Sally Boasberg Founder's Fellowship
Finally, this year we inaugurated the Sally Boasberg Founder's Fellowship, in honor of founding board member Sally Boasberg who passed away on March 28, 2012. Sally was a guiding force of immeasurable importance who contributed greatly to the foundation's evolution and many successes. Sally's family and many generous supporters contributed to the creation of the fellowship. The inaugural fellow, Eduard (Eddie) Krakhmalnikov, who is currently pursuing a dual M.S. in Landscape Architecture and Architecture – Heritage Conservation and Preservation at the University of Minnesota's College of Design, far exceeded our expectations – and that of Sally's husband, Tersh. His writing, research, intellect and good humor were a tremendous addition to the foundation.

As a non-membership organization, we rely heavily on support from donors like YOU!  Now more than ever there is an urgent need to make responsible stewardship decisions.  Your donation will support our many initiatives focused on our irreplaceable landscape legacy – a legacy that you above all appreciate and can enrich.

Sincerely,


Charles A. Birnbaum, FASLA, FAAR
Founder + President